Niles West Theatre to Put on a Rockin' New Show
By Mara Shapiro
February 22, 2011
Hang on for a minute...we're trying to find some more stories you might like.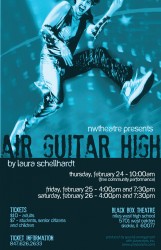 Starting Thursday Feb. 24 through Saturday Feb. 26, Niles West Theatre will be putting on the play Air Guitar High in the Black Box Theatre.
The play is about two high school kids, Cable, played by senior Leah Hummel, and Lindy played by junior Quinn Lawson-Hall,  who get an assignment for their U.S. History class. The kids decide to do their project on the National Air Guitar Competition, which is where people pretend to play the guitar to rock music. This is actually a real competition, believe it or not. It just so happens that many fellow students in the high school are entering this competition, so Lindy and Cable decide to interview and make a documentary about  their classmates, leading up to the big event.
Niles West Theatre Director, Andrew Sinclair, said he feels that Air Guitar High is a hit.
"It's the coolest, most innovative play we've ever done. The jokes are really modern. It feels like a play for today, plus there is more music," Sinclair says.
The play will begin on Feb. 24 at 10 a.m., a free community performance. The play will continue with its run on Friday Feb. 25 at both 4 and 7:30 p.m., and on Saturday Feb. 26 at both 4 and 7:30 p.m. Tickets for adults cost $10 and for students and senior citizens $7.
Air Guitar High is somewhat a local play in that it was written by Laura Schellhardt, the head of play writing at Northwestern University. In addition to this fact, the play will be unique because not only will you be able to see the play on stage, but it will also be simultaneously played on a projector, since the characters are making a documentary. The play will also only feature high school characters, none of the actors will be portraying adults.
"[Air Guitar High] is awesome. It's one of the coolest plays I've ever read," Sinclair says.
Sinclair says that the play has been put together in four and a half weeks.
Sophomore Aria Caldwell, who will be playing Flip, feels that Air Guitar High is a cool play for Niles West Theatre to put on.
"It's a fun play that has cool technical aspects that you normally would not see in high school theatre," Caldwell says.
Lawson-Hall agrees with Caldwell.
"People should come because there's good music and sexy people," Lawson-Hall says.