Update: Student Government, Administration to Meet with Organic Life Today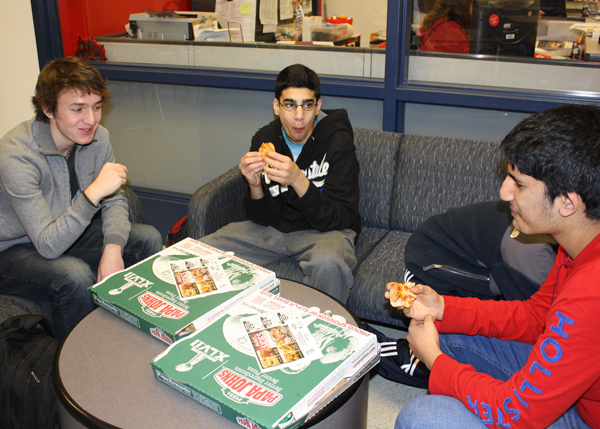 By Gabrielle Abesamis
February 6, 2013
After more than a week of #lunchstrike2013, district administrators, student government and Organic Life representatives plan to meet today during fourth period to discuss student complaints about the quality and quantity of cafeteria food.
Organic Life representative Cat Taylor released the following statement yesterday.
"Organic Life is working with District 219 to address students' concerns regarding the meal price increase," the statement read. "This increase from $2.25 to $2.75 was determined in conjunction with District 219 and remains less expensive than competing area high schools.  While we understand the student frustrations over the increase, both OrganicLife and District 219 believe a high quality lunch for $2.75 is a great deal. We are committed to providing high quality, satisfying and delicious food to the students, and continue to serve over 90 percent of the student population each day.  Our contract is based on National School Lunch Program's (NSLP) portion sizes, which are regulated by the USDA [United States Department of Agriculture , but we agree the national requirements for high school students should be increased.  District 219 has always shown an unprecedented commitment to its student body and has built one of the most elite cafeteria programs in Illinois."
Taylor said there is a misunderstanding between the students and the district.
"[The students] don't understand that the school agreed to give these portions, and that these portions follow the guidelines of the National Lunch Program," she said in a phone interview.
USDA representative Alan Shannon explained the process of creating the guidelines.
"The institute of medicine came together with the USDA and made a dietary guideline that made its first changes on July 1. Scientists and nutritionists update the system, not the National School Lunch Program [or other companies]," he said.
Director of community relations Jim Szczepaniak said he does not see a decrease in quality or quantity of the food served.
"From the perspective of the district, having monitored the lunches this year, we do not see a decrease in quality, and the quantity meets or exceeds the USDA and NSLP guidelines," he said in an email. "In fact, in comparison with other schools in the area, Organic Life's Green Plate Specials, at $2.75, are the lowest-priced lunch specials. And, anecdotally, staff members from other schools who visit Niles West and eat there tell us Organic Life's food is much better than at their schools."
Despite what Organic Life and the district have said about portion sizes, students still claim the quality and quantity of food has decreased since the beginning of the school year. In addition, several students claim Organic Life has served unsanitary food, including a moldy orange, salad with bugs on it, and items with hair in them. Students also report that two cafeteria workers were let go because they gave students extra portions. Neither Organic Life nor the district would confirm these claims.
"During the beginning of the year, I  had multiple things to choose from. I used to be able to get a big box of pasta that I would just barely finish, then they put even less in, then they made the box small, they keep decreasing sizes and even change the lunch lady because they new one was giving more than they wanted,"  junior John Kruk said.
Junior Ricardo Johnson, who has been very vocal about the strike, said the portion sizes were larger at the beginning of the year.
"The pasta sauce when from nice and rich to watery. Also,  three chicken strips went to one, and they just took so much stuff of green plate," junior Ricardo Johnson said.