"The Importance of Being Earnest" is a Laugh and a Half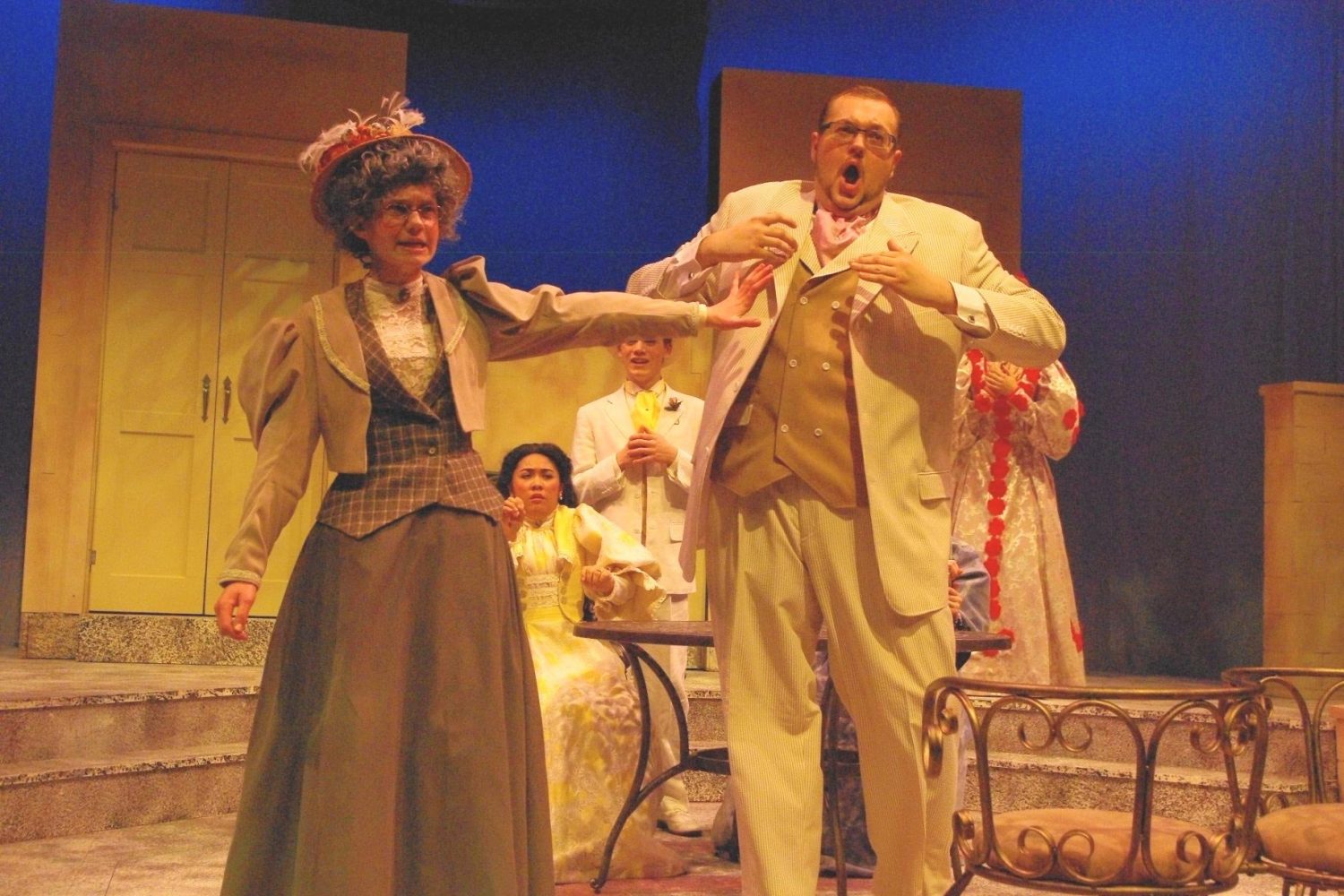 By Mara Shapiro
February 25, 2013
Flamboyant 19th century dresses, British accents, and deprecating jokes about family and marriage? These are just some of the aspects that made up last weekend's "The Importance of Being Earnest." While the play is based off of Irish author Oscar Wilde's original, don't be fooled by the term "classic literature." If you're a fan of  romantic comedies, this play is definitely the one for you. It certainly pleased the audience in the Black Box Theatre, everyone was laughing out loud at one point in the production.
To start off the play, a beautiful 19th century living space took over the stage, complete with little trays full of cucumber sandwiches and  bread and butter. A piano is being played in the background, and a butler Lane (senior Peter Garbis) is greedily trying to eat the sandwiches until the piano stops and his boss, the eccentric Algernon Moncrieff (junior Cameron Broderick) walks in. Algernon makes small talk and makes sure everything is ready for the visit of his aunt, Augusta (freshman Elissa Hoffman,) and his cousin, Gwendolen (junior Susy Montoya-Quinchi.) While waiting, Algernon's friend "Ernest" (senior Alex Wood) stops by for a visit.
Ernest wants to propose to Gwendolen. Algernon is none too pleased and suspects Ernest of being a player. Algernon has been keeping Ernest's cigarette case that he left at his house, and inside it the inscription "From Little Cecily to Uncle Jack" is found. Algernon teases Ernest enough until he reveals that his real name is John Worthing  and that he tells everyone in the country from whence he came that he has a younger, troublesome brother Ernest, whom he must visit in the town to keep an eye on, and that Cecily is his ward whom he is the guardian of since his former guardian, Mr. Cardew, died. "Ernest" is an elaborate scheme to get out of the country and have fun in the town without seeming suspicious. Algernon reveals that he has made up a sickly friend, Mr. Bunbury, in order to escape the town and go into the country(what a coincidence, right?).
The strict, prim and proper Aunt Augusta shows up with Gwendolen and "Ernest" (as he is known to her) nervously proposes. Gwendolen gladly accepts and remarks that she has always dreamed of marrying a man named Ernest. John freaks out and asks her if she would still love him if his name wasn't Ernest, to which she replies that since his name is Ernest, it doesn't matter. Aunt Augusta, of course, interviews her daughter's potential husband, but rules him unworthy when it's discovered that he has no family lineage since he was left in a handbag in a train station as a baby until Mr. Cardew found him and took him in.
Algernon comes up with the plot to become "Ernest" in order to meet Cecily (sophomore Sharon Pasia), who has developed an unhealthy obsession with "Ernest" and his wicked ways. Cecily is a happy-go-lucky girl who does not enjoy her lessons with her governess, Miss Prism (sophomore Mira Berkson.) While Miss Prism goes off with her crush, Dr. Chausuble (senior Rudy Newman) "Ernest" introduces himself to Cecily, to the displeasure of butler Merriman (sophomore Andre Eramia) who pines for Cecily. Cecily reveals that she and the Ernest of her fantasies have been already been engaged for three months and even keeps a box of his letters to her. Of course she  hasn't met Ernest and is unhealthily obsessed, but this doesn't seem to scare "Ernest" off. Like Gwendolen, Cecily loves the name "Ernest," which worries Algernon.
The two schemes collide when Ernest/John returns to find Ernest/Algie at his country home at the same time Aunt Augusta decides to visit with Gwendolen. Hilarity ensues.
This play is truly one of my favorite Niles West productions. The costumes were gorgeous and the makeup was fantastic. Berkson, Newman, and Hoffman all looked older, and it made the play have an authentic feel. The funny lines were executed perfectly. To name a few of Algernon's, he says that "one should only dine with one's relations once a week," the only way he can deal with his relatives is to hear them abused," that women call each other lots of names before sister," and that he would rather die than live in Australia (where John told Cecily he was going to send "Ernest" if he didn't remedy his wicked ways.) Plus he had more than his fair share of anti-marriage lines.
Broderick was fantastic. He made Algernon come to life in a quirky, eccentric, crazy person way. The look on his face  when he finds out that he and John are brothers was priceless. Wood was equally fantastic. He was the perfect amount of bashful around Gwendolen, and showed the perfect amount of anger around Augusta and Algernon. When he saw Broderick prance out as "Ernest," the howl of anger and stomping around made the whole audience erupt in laughter, and again when he stomped up and down while asking Algernon to leave his home. In one part of the play Algernon eats all of John's muffins, and John yells at Algernon with such passion after this that you could see Wood sweating and shaking from the anger, truly fine acting.
Hoffman was truly intimidating. She really scared people when she walked into John's house after following Gwendolen there, and she was hilarious when she said that the education in England didn't fix the peoples' ignorance. She portrayed a snotty English aristocrat expertly.
Newman and Berkson were endearing, and Garbis and Merriman were hilarious butlers. Broderick tells Garbis to have a good day, and he cheerily replies "it never is, sir." I really found that hilarious. Montoya-Quinchia and Pasia were epitomized female relationships, hating one another and then calling each other "sister" and Montoya-Quinchia played a good spoiled brat.
Overall, "The Importance of Being Earnest" was phenomenal. The acting was superb, the costumes were beautiful,  and it really brought a classic to life. Congratulations to the cast, crew, and theatre director Andrew Sinclair.