Marcel Matuszek: The Guy Behind the Facebook Fame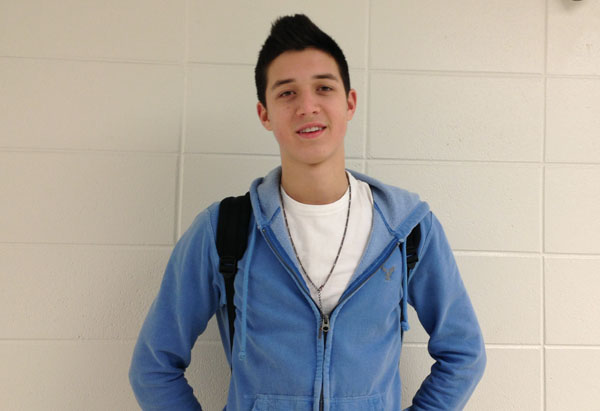 Hang on for a minute...we're trying to find some more stories you might like.
Junior Marcel Matuszek has become extremely well known for multiple things, but among them the most popular would be his Facebook profile picture pose. Head tilted slightly to the right, with his thick black hair combed in the same direction and mouth slightly open, this has become known as his signature "Marcel pose."
"It just came to be; it just naturally came to be," Matuszek said.
But "the pose" is only one part of Marcel's package. He also writes statuses that gets up to 400 "likes" which usually involve advice on how to treat a girl.
"I just write my mind… like if something is going on at school or in my life," Matuszek said.
Whatever goes through Matuszek's mind seems to capture the attention of a lot of  Facebook users, which gains him his "like" popularity. Even though Matuszek gets made fun of because of the attention he gets on Facebook (mostly from his guy friends since a lot of that attention comes from girls) he wouldn't change his high-ranking Facebook for anything.
"I love the spotlight," he said.
Even though Matuszek takes pride in his Facebook fame, he doesn't let it take up a lot of his time. He likes to spend most of his time playing soccer, tennis, or occasionally fixing cars with his grandpa on the weekends. He loves to "get down and dirty with it" and thinks that it's a fun activity to do in his free time. It also gives him a chance to bond with his grandpa; Matuszek loves spending time and joking around with him.
When Matuszek was a little boy, one of his first childhood memories is of him getting a motor scooter and riding it everywhere. Although cars are just a pastime, Matuszek seems to really enjoy being around, driving, and working with them.
Family is a big part of Matuszek's life. His sister Julia and he are his family's first generation in America. Even though most of Matuszek's family lives back in Poland, his parents immigrated here in their late twenties for "more opportunities and to make a better life for me and my sister." Matuszek is very thankful that his parents decided to move to America.
"It's ghetto as hell [in Poland.] The kids, no one cares about them, and everything's old."
Matuszek still maintains a close relationship to the family members that live in Poland because he visits almost every year. He loves going back to hang out with his cousins and see where he could have grown up.
"It's nice to go back and revisit everything."
Besides family being a big part of his life, soccer has been Matuszek's main focus lately. He played for Niles West's team but recently stopped playing for them to focus more on his academy team called The Magic, which is a more intense and competitive soccer league that prepares players for college level soccer. One of Matuszek's dreams is to become a professional soccer player. But if the whole professional athlete thing doesn't work out, he wants to attend Northwestern to study law because he "loves arguing."
One of the main things that has inspired him to become a lawyer is that he believes there is too much violence in the world, and if he could change anything, it would be to reduce all the violence. Now even though he thinks that it's not something that will ever be able to be stopped, especially by only one person, he thinks that at least trying to take step forwards to be able to reduce it will be a start.
"Violence needs to stop… gangs… any violence whatsoever," he said.
When Matuszek isn't busy fixing cars, playing soccer, visiting Poland, or thinking about his future, he loves watching comedy and old Disney movies. Although comedies are probably his favorite, he loves watching Tarzan because it brings back a ton of childhood  memories. He also "enjoys long walks on cemeteries…" okay, just kidding. But he does love hanging out with his best friend and sophomore,  Greg Solawa, who he's known since fourth grade. Matuszek likes to think of himself almost as a mentor for Solawa, since he's a year older then him.
"We have common interests. He's hilarious," he said. "We find the best things in life. Humor, we make the best out of every situation. I try to show him what he should do next year, he can learn from my mistakes… like school, girls, sports."
Solawa agrees.
"He's like my best friend. I knew him since we were in like elementary school and now through high school he gives me rides everywhere, gives me good advice, knows how to cheer me up in every way, and overall one the best friends of my life," Solawa said.
One of Solawa's favorite memories with Matuszek happened just recently at the Swedish House Mafia concert just last Wednesday.
"We snuck into the first row and just had an amazing time at the concert… he was by me and we grabbed each other and danced like brothers," Solawa said.
Matuszek is more than just a head tilt and slightly open mouth – he's an aspiring lawyer and soccer player, and an amazing friend.