Scholastic Bowl Knows Their Facts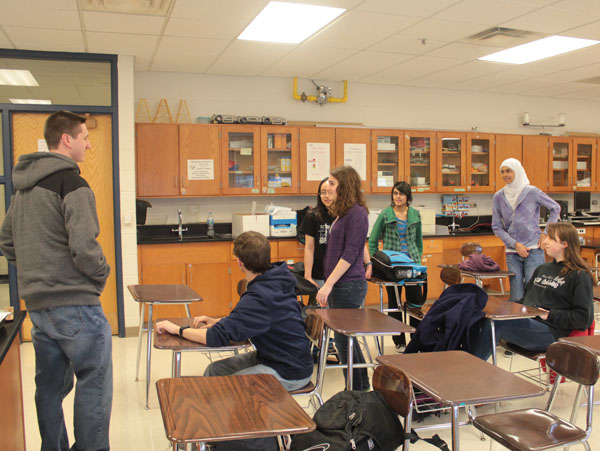 Hang on for a minute...we're trying to find some more stories you might like.
Have you ever thought about what goes on within Scholastic Bowl? The NWN had the opportunity to talk to coach and science teacher Howard Swider.
NWN: What is Scholastic Bowl?
Swider: "Scholastic Bowl is an IHSA Academic competition between teams answering questions on the order of Jeopardy, except that we require the right answer rather than the right question. We have varsity and junior varsity teams that compete against other teams in the Central Suburban League in a 24 question match that may cover an incredibly wide range of subjects and disciplines within the categories of science, math, language and literature, social studies, fine arts. And if that doesn't cover enough territory, there is also a category called miscellaneous."
NWN: Who are your toughest competitors?
Swider: "Deerfield and New Trier are frequently problematic! Earlier this year the Varsity won a match on a tie-breaker question to Maine South, lost a great match against Deerfield, and most satisfying, we registered a decisive victory over New Trier last week."
NWN: What do you hope to accomplish this season?
Swider: "We finished our regular schedule with an 8-2 record in league play. Still to come, this weekend we were invited to compete in the Illinois State Masonic Tournament at Loyola Academy, at the end of the month we will have the Central Suburban League Tournament, in April we will participate in a nationwide computerized AUK Tournament and lastly, the Scholastic Bowl Team versus the faculty in May."
NWN: How do you guys prepare during practice?
Swider: "We practice by going over previously used questions from our files that date back over 30 years."
NWN: How long is the season?
Swider: "We start up in September and pretty much are doing something through May."
NWN: Who are your top members?
Swider:" Our captain on the panel is [senior] Andrew Nitz and our leading scorer is probably [senior] Patrick Liscio who absolutely owns the math and science categories."
NWN: How many people are on the team?
Swider: "We usually have around 20 between the varsity and JV."
Scholastic Bowl meets every Tuesday at 3:30 p.m. in rooms 3220 and 3230.