Meet Chester, the Literacy Center Penguin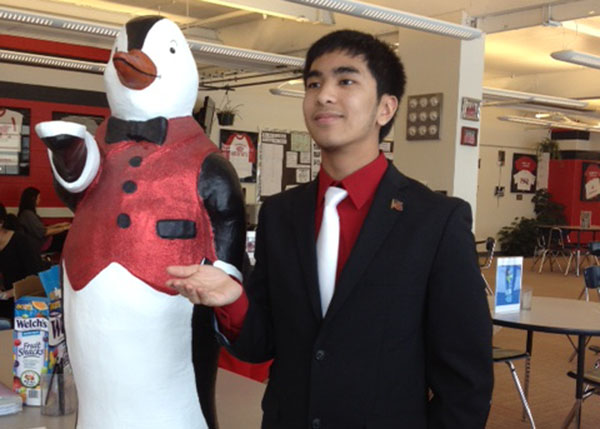 By Mara Shapiro
April 2, 2013
Editors' Note: This is the second in a series of features highlighting various objects of affection found in Niles West.
Walking into the Literacy Center, one sees the smiling tutors, circular tables, and orange-colored carpet. However, there is a very important part of the Lit. Center near the courtyard windows: Chester the red-tuxedo-wearing penguin statue. With his right hand outstretched, he provides the largest peer tutor program in the world a quirky animal friend.
Literacy Center coordinator and English teacher Andrew Jeter found Chester three years ago next to a dumpster in Chicago and decided to take him home with him.
"It's not every day you see a three-foot-tall penguin in an alley in Chicago," Jeter said. 'He must have been lost."
Chester had a crack on his head and was in desperate need of a new home.
"I immediately knew that if there was one place in the universe that required a three-foot-tall penguin, it would be the Lit. Center," Jeter said.
Chester is now the "greeter" of the Lit. Center and does his job well. Jeter said Chester will sometimes hold a person's keys or water bottle if they ask. He also directs students who come in to the Lit. Center for classes into the Lit. Center classroom.
Chester does not go unnoticed by Lit. Center tutors, such as senior Justin Sia.
"I admire his sense of style," Sia said.
While Chester is interesting to look at, there is a deeper meaning behind  housing an Arctic animal.
"In an era of Global Warming, it is every member of our community's responsibility to help Arctic wildlife when we can," Jeter said.
Senior Lit. Center tutor Max Collins agrees with Jeter.
"I call [Chester] 'Chess.' He's the steward of the Lit. Center. He doesn't even blink. He waits on all of us. His tuxedo is ironic because tuxedos are black and white, and he already [naturally] wears one. He can't be himself in a black and white tuxedo. [He needs to wear a red one] because of the death of the ice caps," Collins said.
Next time you visit the Lit. Center, make sure to say "hello" to Chester the penguin. And all jokes aside, one can always donate money to support the real penguins in the Arctic through the World Wildlife Fund.