A Dancer's Heart: Isabel Ramirez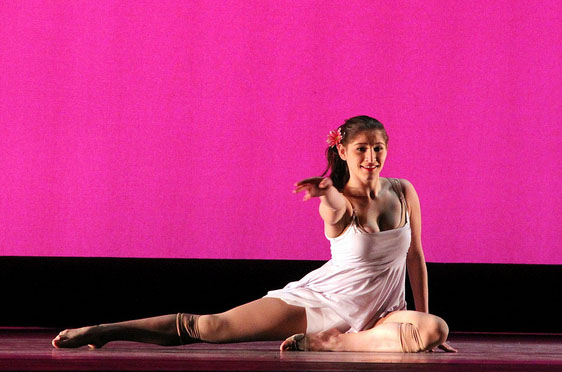 By Ashley Pak
February 27, 2013
Hang on for a minute...we're trying to find some more stories you might like.
Next Thursday, March 7, the light will dim except for one: the spotlight. The music will begin yet silence the crowd. Dancers will fill the stage for "Intertwined," the annual Orchesis show, as they set up in their starting positions. Junior Isabel Ramirez is one of them.
Whether it's a poms performance at a game, dance class, or the nutcracker, Ramirez always has the heart for dancing. She started dancing when she was just three years old. She saw her first nutcracker, and she remembered how beautiful and elegant the dancers were. That's when she knew she wanted to be just like them and dance. As far as she could remember, Ramirez started dancing at Performing Arts Limited Studio for twelve years and now continues at Gus Giordano Dance School.
"[Dancing] is very therapeutic. Even if I'm having a bad day, it makes me feel so much better. It helps me when no one else can," Ramirez said.
Before freshman year, a friend and former pommer, Nicole Bonner, suggested Isa to try out for poms. After being a part of the freshman poms team with co-captain and junior Emily Topp, she was later convinced to try orchesis, which includs various types of dances and co-ed dancers. By sophomore year, Isa filled up her schedule with school, poms, orchesis, and classes at her dance studios.
"I really don't know how to time manage. It's a lot of communication with directors and coaches. It's hard," Ramirez said.
Being captain of the poms team and learning from different coaches and teachers, Ramirez had more outside work to do for her team. As a captain, she choreographs routines, leads stretches, and keeps the rest of the team informed. She has more responsibilities but also takes comments from directors and coaches seriously.
"I make sure not to take constructive criticism personally. I really take it to account because I know they are just trying to help me," Ramirez said.
This year the Niles West poms team competed in the IHSA sectionals and state competition and traveled to Disney World for the national competition. Everyone on the team worked together and bonded both onstage and outside the competition. The team did very well; they were happy they qualified for nationals last summer and just being there was magical.
Ramirez remembered the jittery and exciting feeling she felt when she stepped onto the floor. Unlike her dance classes, she says poms is much more competitive than the relaxed environment of a studio. For most of the girls on the team, Ramirez has danced with them on this team for three years.
Junior Gretchen Sterba danced with Ramirez on the poms team all three years, and recently this year tried out for orchesis.
"[Ramirez] is dedicated. She works herself and sometimes over works. That's a sign of really accomplishing a dream, something more than hardworking. She's inspiring," Sterba said.
Although dancing may seem easy and graceful, it's a lot of work on all parts of the body. The mind must connect with the rest of the body, and also interact with other dancers. This is what all dancers do, just like Ramirez. Days of preparation lead to the actual performance.
"Lots of sleep, massages to destress, and eating healthy are important key things I do to prepare for a big performance or competition," Ramirez said.
Next year, Ramirez will step into Niles West as a senior. Her four years of poms and orchesis will soon come to an end. However, this doesn't stop her from continuing what she loves to do. She is determined to continue dancing for the rest of her life, even in college.
Ramirez is someone people look up too, especially to her teammates on poms.
"Isa has a passion for dancing and it really shows when she performs," junior Ariel Morgan said.
"I hope to dance forever because it means the world to me," Ramirez said.