Liscio Advances to U.S. Physics Team Semi-Finals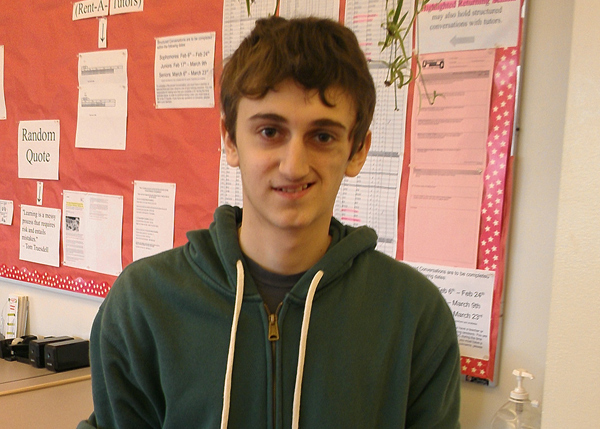 By Fatima Farha
February 25, 2013

Among the 400 students that were picked as semi-finalists for the U.S. Physics Team, senior Patrick Liscio  was announced to be one of the nine semi-finalists from Illinois last Friday.
This year, Liscio competed against many students from across the nation who took part in the preliminary exam in January. He was one of the only students in America who scored a 36 on the ACT.
"I certainly hope that I can do well on the semifinal test this year.  After qualifying last year, I was hoping to do well again this year, but I didn't really know what to expect," Liscio said.
The U.S. Physics team competes in the International Physics Olympiad every summer. In order to be qualified for the physics team, people have to take a series of tests. Liscio took his first test one month ago and was qualified for the semi-final round. In preparation for the first test, Liscio practiced using problems from the previous year's test.
The next test is scheduled to take place in March, where Liscio will be competing against 399 other students. The exam will consist of six physics problems in three hours. For the next test he is also going to be studying using previous test problems, as well as learning some new material that is not present in a typical physics class. The students who score the highest in the semi-final round are sent to a training camp in May, and from there only five students are chosen to be members of the U.S. Physics team.
According to Liscio, he received primary support from physics teacher Martha Lietz. She helped him solve problems that he was unable to do on his own as soon as she possibly could. For instance, she replied back to a late-night email from Liscio with detailed explanations to a certain physics problem the very next morning.
Lietz finds Liscio to be a very self-motivated student and thinks that he definitely has a chance at becoming a member of the U.S. Physics team.
"I think Patrick stands as good a chance as anyone else taking the test. I think he stands a decent chance of making it to the team, but it all depends on how much time he has to prepare for the next test. I think Patrick stands a better chance of making it to the team than many other Niles West students in the past, but there are no guarantees," Lietz said.
According to Lietz, the test is extremely challenging.
"It's a very tough test. I challenge any one in the building, including the physics teachers, to print out last year's test, take it under test conditions and get better than, say, 60 percent," she said.
As for his future plans in terms of school, Liscio was accepted to MIT through early action and is contemplating attending the ivy league university this fall.