Meet Me in a Minute: Max Collins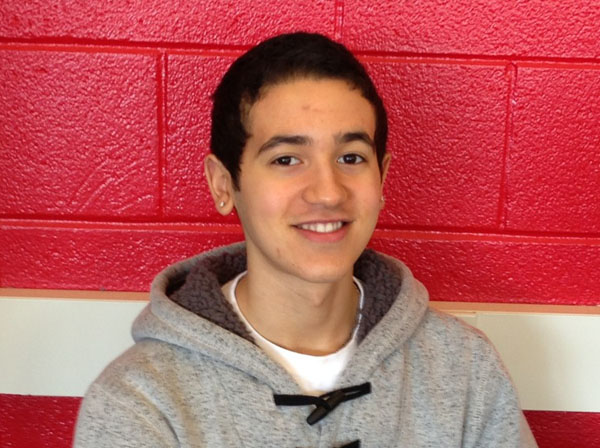 By Connie Lay-Ngo
February 28, 2013

Standing six feet tall with his pink coffee mug in one hand and a yogurt cup in the other, senior Max Collins is always ready to say something hysterically witty. When he's not eating his tenth yogurt of the day, making the same breakfast every morning (a strawberry milkshake and an omelette with hot sauce,) devouring enormous burgers at Timothy O' Tooles, cooking, or doing anything with food in general, Collins enjoys making schedules and keeping his life organized.
"I'm like Sheldon Cooper [from ' Big Bang Theory,']" said Collins. "I have a schedule for everything. I wake up at 6:15 every morning [and] make breakfast and lunch for me and my sister. I like consistency and having everything planned out. If things don't go a certain way then I wouldn't be able to survive."
Aside from living by his mantras, "Eating yogurt is not an addiction; it's a way of life," and "I like living on the edge… of a yogurt cup," Collins sees himself as "Black, white, Jewish, and Christian." As a member of Black Student Union, he encourages people to recognize the importance of February's theme of Black History Month as it comes to a close.
"I think it's important to have this month because a lot of lessons in school focus on it," Collins said. "We have to learn from the past to proceed into the future. There's so much people don't know about Black History Month. I can't even trace my dad's ancestry because they were all slaves." As he opened his second yogurt cup of the period, he said with a smile, "[This month] is the time to think about what got us collectively where we are today."
Collins has great ambitions and plans to fulfill them in the future.
"I'm still not sure where I want to go to college," said Collins. "I want to be an engineer and invent something that's a game changer. I can't disclose the list [of ideas] because someone's bound to steal them. I want to become rich by carrying out my ideas."

One thing that very few people know about Collins is his interesting childhood.
"When I was a kid, I went to circus camp for four years," said Collins. "I can juggle up to four  balls, pins, and rings, and I can do a lot of circus acts, like the trapeze. I was [also] the poster child for Lamaze toys. Both my parents were actors, so my sister and I did that kind of stuff."
You can see Collins at Black Student Union meetings on Tuesdays after school in room 2415 (sponsored by Jason Foster) and teaching students how to juggle in Andrew Jeter's new Cat Juggling Club (meeting times and dates TBA.)