His Name in Lights: Yassir Dasser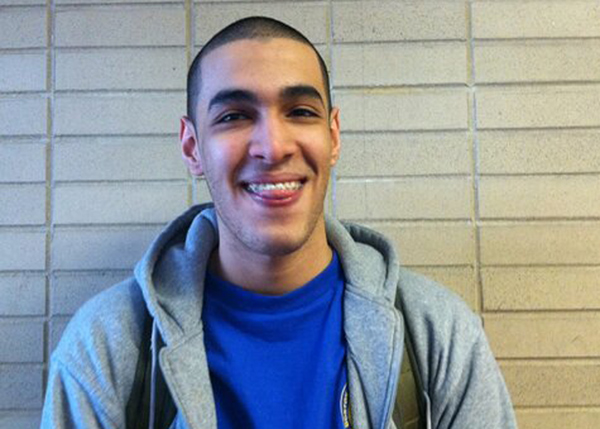 You may recognize junior Yassir Dasser from being center stage in the auditorium or the black box theater in front of a crowd entranced by his performances. Whether he's performing monologues in "The Laramie Project"  or goofing off with his friends, there's always one thing on his mind: making it big.
When Dasser was just nine months old and living in Morocco, he contracted an illness that should have left him dead.
"In Morrocco, everything's bad… They have bad hospitals."
Considering the living conditions, Dasser's fever of 104 degrees was already clouding his bright future. He was unconscious for 12 hours, and almost went into a coma. Miraculously, Dasser began to pull through the fever in a 24 hour process.
"I thought maybe I was special or something," Dasser said about surviving the fever.
Being a native Moroccan and speaking fluent Arabic and French, Dasser moved to America, but his bad luck didn't stay in his hometown.
Freshman year, Dasser was on the football team when he suffered a bad concussion that lasted three months. Despite the physical difficulty, he played through it.
"[The doctors] thought I had a brain tumor," he remembered.
Although he fought through it, Dasser admits that it was an especially challenging point in his life.
"I missed a lot of school, and had a lot of headaches. I couldn't even go to Homecoming freshman year! It was so disappointing," he said.
From a bigger perspective, Dasser's physical hardships and discontinuation from football may have been fate pointing him to his true path in life: theatre.
"Maybe I'm meant to be an amazing actor… My dream college would be Juilliard for theatre," Dasser said.
Though he is an active member of Niles West Theatre, Dasser's ideal career path would be to star in movies and shows.
"I'm not really into that Broadway," he admitted.
Dasser realizes that his dreams are a long shot, which is why he plans on getting recognized as soon as possible.
"I need an opportunity to prove myself."
In order to help himself make it big, Dasser is using Niles West theatre teacher Andrew Sinclair as a guide.
"Yassir is a natural – he is the type of actor who has such honest and raw talent that he doesn't he even realize how many layers he can create in a character," Sinclair said.
"He's amazing," Dasser gushed. "Ever since Freshman year when I went for theatre workshop he's been telling me to audition [for plays.] He's very supportive. He's brilliant… just the way he thinks! He's always so positive. I look up to him a lot, and I want to maintain relations with him after high school. He told me that we should talk because he said I have what it takes."
Sinclair is hopeful for his student's future.
"When I first had Yassir in class, I instantly enjoyed his goofy sense of humor and sweet nature.  However, after directing him in productions like "The Taming of the Shrew," "The House of Blue Leaves," and "The Laramie Project," I have realized just how amazing he is when he takes away some of his "Yassir charm" and finds the emotional core of a character.  Any audience member who saw him tackle the difficult role of Aaron McKinney (one of Matthew Shepard's murderers) in "The Laramie Project" will echo my thoughts.  This actor's got the goods – I can't wait to see what he does with his natural talent!"
Although his heart lies in being on the Big Screen, Dasser has a few other professions in mind that would make him just as happy.
"I also like telling jokes, like being a comedian. I like entertaining people. It makes me feel better to put a smile on someone's face or make someone laugh. I know it's cliche, but it makes me feel better about myself."
According to senior, fellow thespian, and best friend Alex Wood, a career in comedy seems to be a good choice for Yassir the "goofball." Though Wood describes Dasser as being one of "the finest teenage actors I know, he makes every rehearsal fun because he is a total goofball, but he is super-serious when it is comes to his performance. He is always just so damn funny, and he always tries to make people smile, no matter what mood he is in. Some people may find him hard to approach because he is what some people would consider obnoxious, but he has one of the biggest hearts of anyone in Niles West."
Though his natural kindness, charm, and raw talent are all positive things that lead him into the right direction of following his dream, Dasser would also enjoy following a career in medicine, particularly being a paramedic.
"I just think it would be so cool," he said.