Q & A with Hellenic Club
By Ivana Kosir
February 8, 2011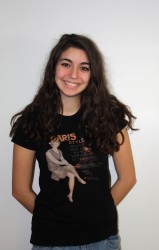 Editor's Note: This is the first in a series of Q & As with members of cultural clubs at Niles West in celebration of International Week.
NWN interviewed sophomore Eleni Mastorakis about her Greek culture.
Q. What are you most proud of about your culture?
A. I'm proud that we have so many different traditions, and that even though we're living in modern times, we still stick to old traditions, like dances, songs, music, alphabet, and language. I'm also proud that we've never been conquered.
Q. What is your least favorite thing about your culture?
A. There's nothing I don't like about it.
Q. What is your favorite meal?
A. Lamb and stuffed vegetables.
Q. What is the most important holiday?
A. Easter. We're super religious,  and it's a major event in Christianity. We go to church, we light long candles, come home, roast a lamb, have traditional food, and we break eggs.
A. What is the most common misconception (stereotype) about your culture?
Q. Everybody thinks that we're really really loud.