Niles West to Host Showcase of Bands Concert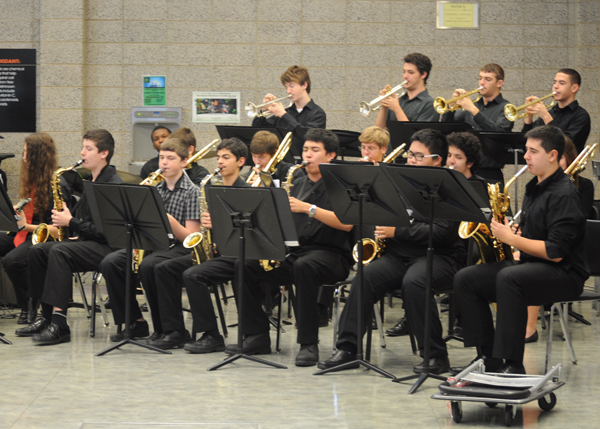 By Hafsa Wahid
March 13, 2013
Band director Justin Johnson is scheduled to host the Showcase of Bands Concert tonight in the auditorium from 7:30 p.m. to 10:00 p.m.
The three bands– concert, symphonic, and symphonic winds– will be performing at this event. The concert will provide the audience with entertainment along with allowing band members to display their talents. Band spirit wear will also be sold.
"The purpose of the Showcase of Bands Concert is to share the musical progress of the Niles West Bands with the parents and community at large," junior band member Andra Sabou said.
The band members have been working  in and out of school in order to perfect their performances for this event. Junior band member Smita Jain believes that this hard work increases their knowledge of music.
"Apart from the daily rehearsals in class, we have been practicing out of school, and many of us have been taking lessons. However, what we learn isn't only geared towards this single concert, but is also a part of increasing our knowledge of music, which can be applied to any setting," Jain said.
Niles West has a wide array of fine arts programs and this event is a portrayal of the talent which Niles West students possess. Jain encourages people to attend the event in order to support the fine arts programs.
"People should attend because it's a great way to support the phenomenal fine arts program we have here at Niles West, and it's always nice to hear some great music performed by the bands," Jain said.
Sabou said that the concert  is a great way to listen to pure instrumental music.
"The arts are always worth exploring and supporting. One doesn't get many opportunities to listen to purely instrumental music. Attend to listen to great music and support your friends and family in the band program," Sabou said.