Students Make it to National Engineering and Science Fair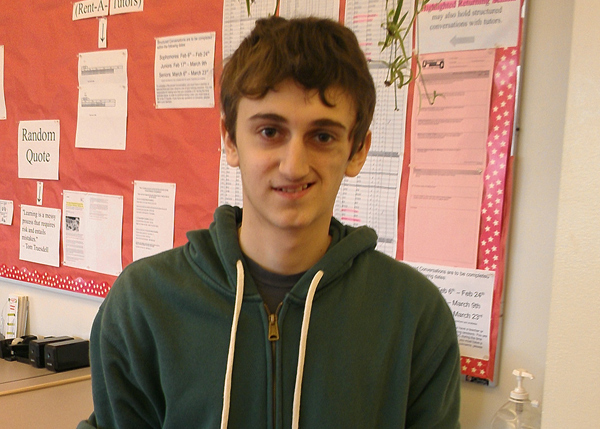 By Gabrielle Abesamis
March 13, 2013

After winning the district science and engineering fair over the weekend, seniors  Felicia Phan and Patrick Liscio are scheduled to compete at the Intel International Science Fair in Phoenix, Arizona on May 12-17.
Phan's project investigated the effect of Trichostatin A (TSA), an anti-cancer drug, on calcium levels in lung cancer cells. Liscio's topic competed in the math category of the competition. It was through his project from mathematical modeling class that he developed an algorithm to rank college football teams.
"TSA is a histone deacetylase inhibitor (HDI) and HDI's mechanisms for killing cancer cells are currently unknown. I discovered that increasing the concentration of TSA treatment increased calcium levels in lung cancer cells. Since a balance in calcium levels is necessary for normal cell processes, this alluded that altering calcium levels was one of the mechanisms of TSA" Phan said.
"It was able to beat Las Vegas point spreads 57 percent of the time, which would be enough to make a profit betting on games," he said.
Stem Lab and Biology teach Ruth Gleicher said she was proud of Phan.
"It's not always about winning a prize. I don't need a child to place. I want her to do the best she can, so she can really get advice from the judges and make connections. She is a very, quiet, dedicated science student. She is very hard working and determined. Dedication and passion lies within her. She deserves this more than anyone else," Gleicher said.
Phan, who said she was considering a career in bio medical engineering.
"I began investigating ideas for projects on the first day of school because it was our summer assignment, but by the time I narrowed down my project to this, we were probably about a month into school.
The Phan and Liscio said that they are happy to make it this far into the competition.
"It's honestly accomplishing. Every award or opportunity granted to me due to my research makes the immense amount of work I put in worth it" Phan said.
"It's nice to see that my work has paid off, and I'm looking forward to seeing many of the other great projects at the next stage of the competition. To see my project put on the same level as Felicia's at least for now, also feels like a great accomplishment," Liscio said.

Senior Ryan Cyriac  also won best in category for Health Science as well as a special award from the U.S. Navy.
His project investigated how a computer program, The Direct Control Model, which is commonly used for prosthetic patients, is affected by signals sent from skeletal muscles. The purpose of the project was to enhance the Direct Control Model in an attempt to improve the life of a prosthetic patient.
"To be acknowledged as having the best project among many bright students was both rewarding and encouraging," Cyriac said.
Previously, we said that they were going to state, but in addition to that, they are also going to compete internationally.