Meet Me in a Minute: Mr. Conroy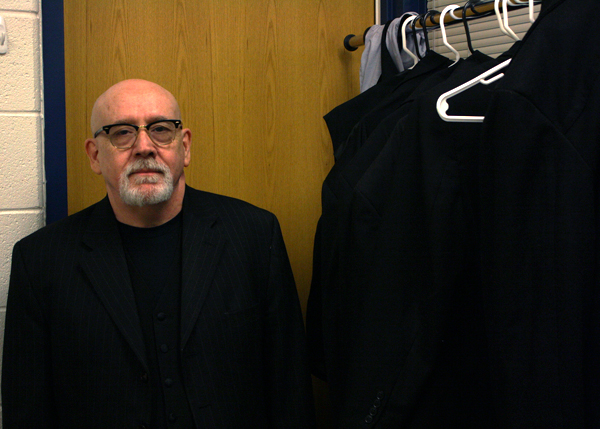 Sitting in his office, which he refers to as "The Zen Chamber," English teacher Michael Conroy remarks that it feels strange to be interviewed by the Niles West News, seeing as he was the director of the West Word for ten years.
"Up until seventh grade, I actually wanted to be a priest," Conroy says.  "When I got into my adolescence and realized that there were other creatures around, priesthood didn't seem like such a good idea anymore, but I still wanted to serve people in some way."
Conroy's next best choice seemed to be in teaching, so he majored in English at the University of Indiana.
After college, Conroy first tested the waters as a professional journalist before turning to teaching.  He came to Niles West in 2001 and applied to be an English teacher, a position that included being the sponsor of the student newspaper.
"I was out of teaching for a few years when I applied for the job, and I didn't even get an interview.  They chose a woman who had previously been a magazine publisher.  She took the job, but there was one thing she didn't realize.  She didn't like kids very much.  She quit six weeks into the school year.  They were looking for someone with my skill set, so I came in and took the job on November 1, 2001.  I did that for ten years."
Conroy resigned as the sponsor of West Word in 2011 due to the changing nature of technology and its influence on the media.
"I knew I wasn't preparing my students [for digital journalism]," Conroy says.  "I knew Evelyn [Lauer] would want the job, and I knew I was leaving the publication in good hands."
As for why he always wears black, "It's actually very practical," Conroy says.
"Back when I first got hired, school started at 7:25.  I was not a morning person.  I didn't want to try and match colors at 6:30 in the morning.  I'm not a goth, I'm not a depressed person, I'm just lazy," Conroy says with a grin.
Conroy also told people he was colorblind until one of his students pointed out that he taught photography.
At West, in addition to being an English teacher, Conroy also teaches a class on sports in American culture.  His love of sports started at an early age, and he played football and was a wrestler through high school.  Being from Indiana, he loved basketball as well, but wasn't tall enough to play.
"If you're from Indiana, you're basically born with a basketball in your hand," Conroy adds jokingly.
After learning that Conroy's favorite sport was college basketball, I asked him who he originally thought would win the tournament this year.  You might be able to guess his answer.
"I think the Hoosiers have as good a shot as anybody.  I think the Big Ten will get seven teams in, and they're all battle tested.  Indiana, Michigan, Michigan State, Ohio State all have a shot.  I wouldn't be surprised if two of the final four teams were from the Big Ten."