Niles West's Fourth Floor's Secrets Revealed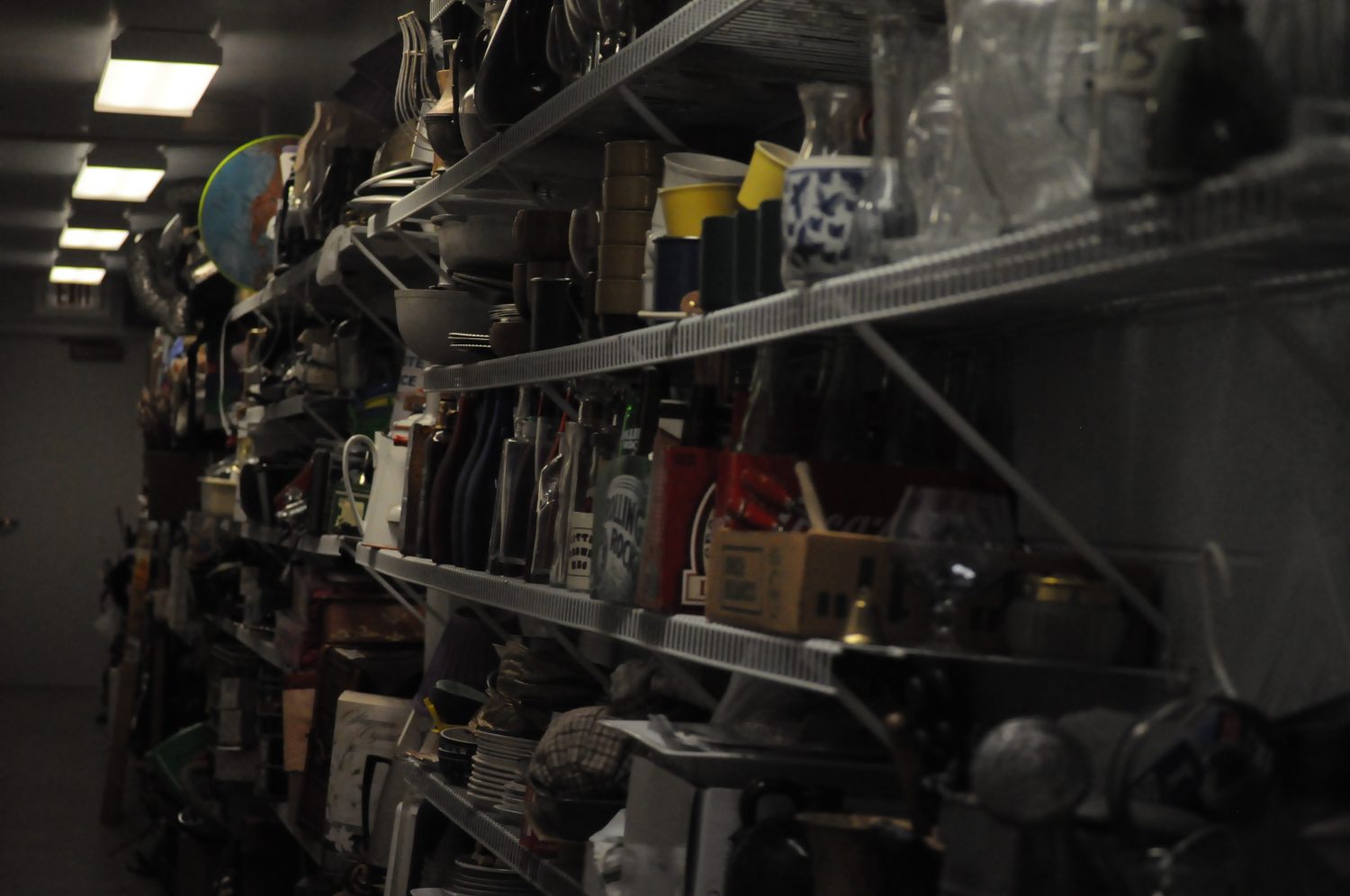 By Ivana Kosir
April 22, 2013
Editors' Note: This is the first in a series of  features highlighting little-known locations at Niles West.
[dropcap]N[/dropcap]ot including the basement for storage and maintenance purposes, the average Niles West student would probably think that the school was made of three floors, but it isn't. The fourth floor, located above the auditorium is home to the magic that happens behind the scenes in theatre productions.
After climbing several flights of stairs in a secluded part of the school, it's evident that each item that can be seen in the level has a story worth telling. All sorts of things could be found in the room.
"Being upstairs in the costume and props room is like being in a whole new world, I forget that I'm still in Niles West when I'm up there" junior thespian Joerlyn Manalang said.
On the right side of the hallway there were dozens of old radios, dolls, and even things one would think a circus clown would own. It's like a giant toy store. There are fake bombs and fake cigarettes that expel talcum powder when someone is blowing on it. There are vintage items from the twenties and there are also many items that students have made out of styrofoam and plastic. Whether it's toys that aren't sold anymore or common things one would buy in a garage sale, the fourth floor probably has everything that is needed to produce the best play.
[nggallery id=246 template=galleryview]
"To choose props, we look through the script of a show and make a list of all of the things the script tells us we need. Then we talk to Mr. Sinclair about any props he'd like to add. A lot of times Kim Morris has props that we need in her other stockpiles at other places. If she doesn't have it and our storage doesn't have it, most of the time we'll order off of sites like Ebay or Etsy," thespian and former prop master Lila Gilbert said.
On the left of the hallway are two rooms with racks and hangers holding flashy, frilly, sheer, and bright costumes fill that extra level. A far more interesting thrift shop are in those rooms. Old wedding gowns with ivory lace, suits in colors that one can't even fathom, and duster dresses with a big green plush dragon tail.
Believe it or not, majority of the costumes in the plays are student made. Within the four weeks of the production, the costume and prop designer Kim Morris, helps students create the costumes on stage. She creates patterns and models and teaches the crew how to do the same thing also. The only time costumes are being bought is when a character really needs an authentic article to wear.
"I think its really cool that the majority of our costumes are built by students. Everyone working on costumes knows how to follow patterns and size things correctly for the actors," thespian board vice president and senior Becca Gratch said.
For the most part, old costumes that are already made are modified to fit the roles in other plays. Whether it's spray-painting shoes to change their color and fit somebody's size, adding sequins of creating extra ruffles for a dress, the costume workshop crew does it.
"I'm amazed with people who can build costumes. When I've worked on costumes,  I usually get put with more jobs like hand sewing buttons on, or adding trim to dresses, or ironing slacks, but its still a fun environment," Gratch said.
Though it's hard to maintain all the clothes, the theatre department manages to take care of the clothes. Right after each production, two to three days of after school activities are taken out for clean up and organization in the theatre. At those times, clothes are washed and taken to laundromats and dry cleaners and they are put back in the storage rooms.
"Kim just sort of knows where everything is, and as students go through the program they learn where everything is too," Gilbert said.
It wasn't always like that though. According to theatre director Andy Sinclair, a few decades ago, when the school was made,  those rooms were actually used changing rooms for actors. Actors and crew members had to run up and down four flights of stairs, so that they could change costumes in between scenes.
"Actors would be so fit, if those were still the conditions" Sinclair said.
A few decades later, the black box theatre was added to the school and in addition to that, changing rooms for both genders were made on the first floor. It was then where the changing rooms on the fourth floor became the costume workshop and storage area.
Last summer, since the fourth floor isn't as updated as the rest of the school is, the costume workshop was moved to the women's dressing room by the black box theatre. Upstairs, the climate was uncontrollable and those rooms are mostly used to costume and prop storage.


Photos by Gabrielle Abesamis
Video by Michelle Sproat