Snow Days Cause Postponement of Final Exams in June
By Ivana Kosir
February 10, 2011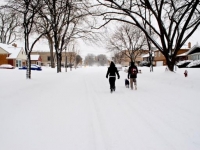 Due to the inclement weather last week and the necessity to close school on Wed. Feb. 2 and Thur. Feb. 3, the school board decided to extend the school year by two days.
Principal Kaine Osburn wrote in an email that he suspects that the school board based their decision on the desire to fulfill the curriculum in a certain time frame that it was designed to be completed in.
"The Board of Education has made a decision to extend the school year into our emergency days as a result of the two non attendance days (snow days) that were taken on Wednesday, February 2 and Thursday, February 3," wrote director of human resources Dale Volger in a staff email.
Finals will be on Thurs. June 9, Fri. June 10, and Mon. June 13. Senior finals and graduation dates remain unchanged.
Despite the make-up days, students said they were happy to have the days off.
"In a way, I like the snow days, but I don't want to make them up. I mean, we got two days off, so I guess it's fine. I enjoyed the days off," said junior Adela Lupas.
Sophomore Faris Karaman agrees.
"The snow days are good to have to relax and enjoy the winter wonderland our neighborhood becomes," he said.