Boys' Volleyball Loses to New Trier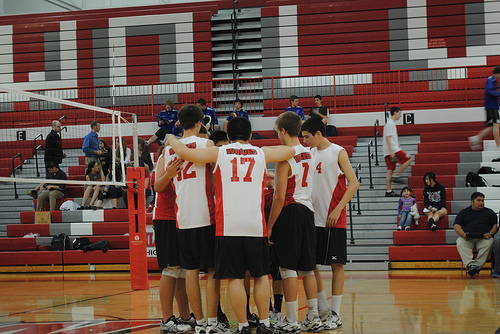 By Danny Thompson
April 18, 2013
The Wolves have been having a great year as they looked to build on their 15-1 record Tuesday night against the New Trier Trevians.
After losing the opening serve, the Wolves went on a scoring tear, jumping out to an early 6-1 lead.  The run was helped by a pair of blocks from junior Zachary Gelfand as well as a number of miscues by the Trevians.  Following New Trier's first time out, the Trevians put up a couple of points but were quickly answered by kills from Gelfand and junior Sebastian Ahn.
West and New Trier traded points until three quick scores by the Trevians cut Niles West's lead to one, 12-11.  At this point the Wolves again pulled away, capping their 4-0 run with an ace by junior Eli Gelfand.  However, as soon as it seemed like the Wolves had some breathing room, it quickly disappeared.  New Trier went on a run of their own, tying the score at 16 and hanging with the Wolves until a block by the Gelfands ended the game in a 25-23 Wolves victory.
The second game got off to the same start as the first one with West grabbing the early lead behind aces by juniors Andrew Mihulet and Eli Gelfand.  With the score 8-3 in favor of the Wolves, New Trier took a timeout.
The Trevians came out of their huddle with a new fire and racked up seven straight points before the Wolves took a timeout of their own.  The two teams went back and forth for a couple of points, but the Trevians only opened up the score from there, giving themselves a 22-16 lead.  The Wolves refused to roll over, and pushed the score to within one, but ended up dropping the game to the Trevians 22-25.
Holding one game each, the Wolves and the Trevians switched sides one last time and played their closest game of the night, during which neither team held more than a three point lead.  Kills from Eli Gelfand and senior Narcis Ardelean got the game going, but a 2-0 game quickly became a 2-2 game, which became a 4-4 game, and then a 5-5 game.
Again equal at 16, the Wolves added three points in a row and forced New Trier to call a time out.  Coming out of the time out, the two sides matched one another at 20, and again at 24.  The home bleachers now on their feet, Zachary Gelfand added a kill to give the Wolves a one point edge.  Unfortunately for West, this was their last lead of the game.  New Trier barely edged the Wolves in the end, winning the third game 28-26.
Head coach Andrew Roche takes the loss as just one piece in what's been an extremely successful year for the Wolves.
"It was a hard fought game by both sides.  I'm proud of the way our guys fought and represented Niles West.  Fortunately, we will get at least one more crack at them and we will be a better team, as I expect they will be a better team as well," Roche said. "We have won plenty of close matches this season so we are going to continue to improve on our side of the net and continue winning."