Teachers React to Aftermath of Friday's Assembly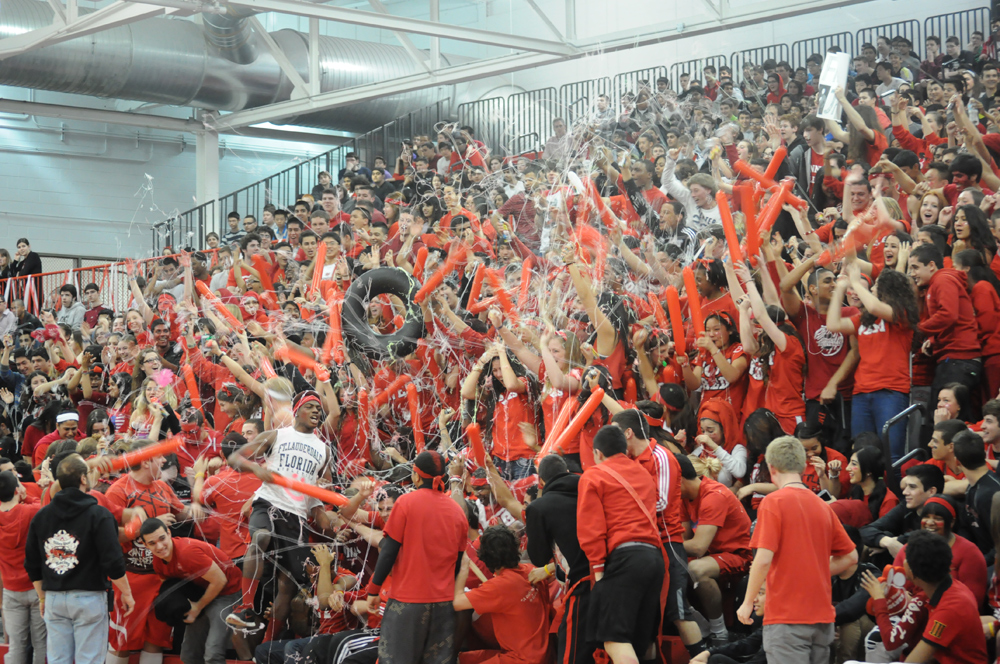 By Ally Daskalopoulos
April 22, 2013
After principal Kaine Osburn cancelled Friday's pep assembly, seniors and juniors stormed the halls, knocking out ceiling tiles, pounding on lockers, chanting "2013" and "2014,"  according to eye witnesses.
The commotion also spilled out into the parking lot where some seniors threw water balloons at juniors' cars.
"I have taught for 34 years. I don't recall ever feeling threatened in my work place before Friday afternoon, but the aftermath of the assembly was frightening," English teacher Michael Conroy said.
Teachers, some of whom said they were almost trampled by stampeding students, were disappointed in the students' behavior.
"I was a little unclear as to what was supposed to happen [after the assembly.]  I hung out in the hallway to make sure that kids were behaving," social studies teacher
 Joe Edwards
 said. "It's clear that the kids wanted to do something big.  They clearly did stuff that they knew would result in cancellation of the assembly.  It'll make it difficult going forward.  If you cancel an assembly and kids just get to go home, what's to prevent something like this from happening in the future?"
English teacher Lia Sosa agreed.
"I thought the seniors took it too far and there should've been consequences for them instead of cancelling the assembly because lots of groups had things planned.  CEC basketball didn't get to play either," she said.
Osburn said this was the first time he had to cancel an assembly.
"I came close to cancelling the winter assembly this year," he said. " The behavior that was shown last week reflected badly of the entire student body. This type of behavior is never tolerated, and was put to a stop immediately after much frustration."
English teacher Paul Wack said perhaps assemblies should be cancelled indefinitely.
"I thought it was selfish and dangerous.  I think we need to maybe not have assemblies for awhile until we find a better way to do it. I also think that the school needs to encourage school spirit in a positive way.  It's not just about winning [between classes.]  Then it turns destructive," he said.
Sophomore Connor Babcock said he was upset about the disrespect toward the principal, and the reactions of the upperclassmen.
"I was appalled by the senior's reaction and felt bad for Mr. Osburn since it was his last assembly," he said.
Junior Jimmy Guan said he was impressed by the noise and overpowering red-and-white chaos that were the seniors, but still showed some sympathy for the fact that only two assemblies would take place for 2012-2013 school year.
"I'm not going to lie, it looked really cool, but I'm not happy the assembly got cancelled,"  Guan said.
According to Osburn, the administration is currently looking for a solution that will prevent an event like this from happening again.
"The administrative team will be meeting, and the faculty and staff will discuss productive steps that will be taken in the future," he said.
Gabrielle Abesamis, Danny Thompson, and Dan Poskus contributed to this article.