West Reacts to Earthquake in China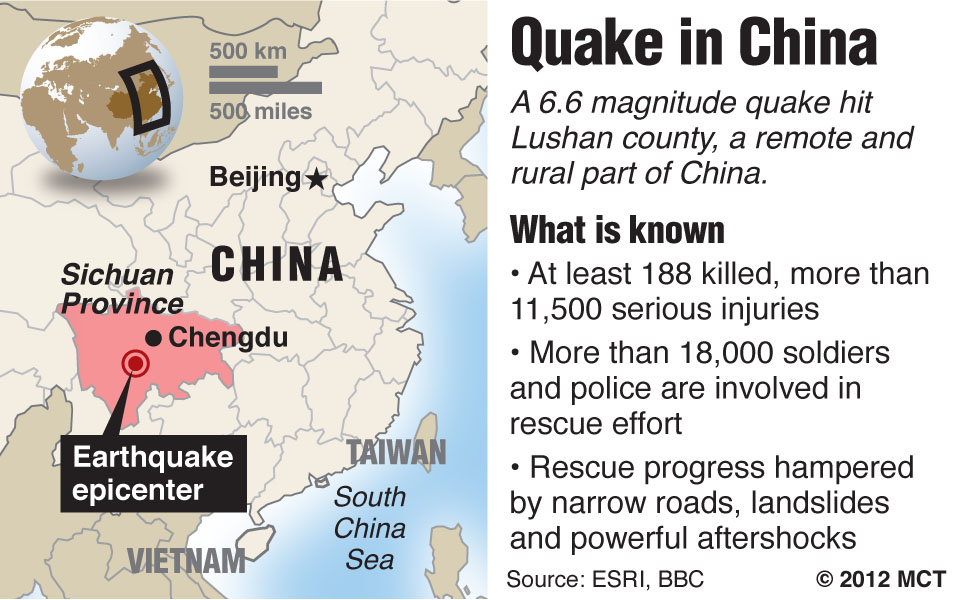 By Gabrielle Abesamis
April 22, 2013
Hang on for a minute...we're trying to find some more stories you might like.
Due to the earthquake that shook the Sichuan province and Southwestern China on Saturday, April 20,  landslides and power shortages occurred all over the region.
As reported by BBC News, at least 188 people died and more than 11,000 people were injured as a result from the 6.6 magnitude earthquake.
"The infrastructure in China is not very well maintained, and it's not consistent from area to area. Many buildings have substandard foundations or are not very sturdy, and that was the reason why so many died and were wounded in the 2008 earthquake — also in Sichuan, the same area as this earthquake. It's very sad because often in these situations, the neediest population is the one that suffers," Chinese teacher Wileen Hsing said.
Junior Connie Dang, who has family members near the province, concurs.
"It's a tragic thing. With the past week with the Boston bombing and Texas explosion, those things are horrible enough, but at least we have the resources to take care of it. Something like this in rural China is devastating. These are people who are already poor and now they have less than before," she said.
Students said they were shocked and saddened by the natural disaster.
"I prayed for those who lost their lives. It was such a devastating and unexpected event. I hope all the injured people can get the medical attention they need and get better, and that all those affected will get help," sophomore Rebecca Harbeck said.
"Although I don't have family residing in China, just seeing so many people hurt and gone is devastating. With all the disasters that has happened in the last few weeks, including the earthquake, I can't even begin to describe the feelings of pain. I just hope that the communities surrounding Sichuan will be able to contribute their help and work together to help save and restore Sichuan," sophomore Emily Duong said.
"I think the whole situation is terrible especially after the other earthquake from a few years ago near the same province. I think it's very sad that China is trying to catch up to the world after so long but they don't have the necessary safety precautions to do so, " junior Lia Isono said.
"I was shocked to hear that so many people died, and I feel so bad for them," junior Susan Klaisubhan said.
According to CNN, the Sichuan Red Cross has estimated that drinking water in Ya'an City, Sichuan will run out in the next two days. The Chinese government gave about $480,400 to rescue and relief efforts Sunday, but the funds for the repair and recovery still runs short for the damage of the devastation.
Dang said people should help the people of Sichuan.
"I think we are called as humans to reach out to one another whether we are on the same continent or not. I hope this breaks everyone's hearts so that we can be more globally aware and active in places that have so much less than we do and are suffering," she said.