Teacher's Appreciation Week: Thank You, Ms. Lietz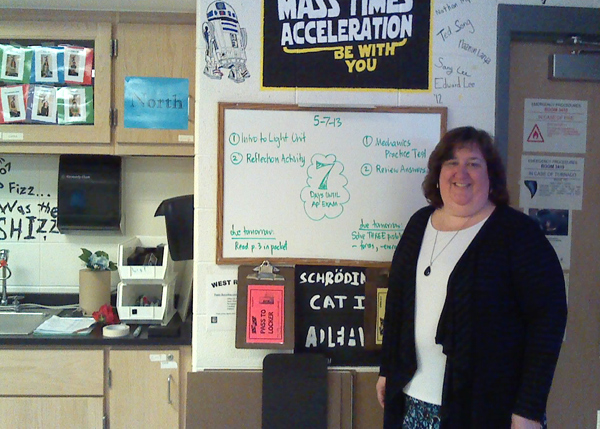 By Gabrielle Abesamis
May 10, 2013
Hang on for a minute...we're trying to find some more stories you might like.
Editors' Note: This is the fiftth in a series of thank-you features to teachers who make a difference to an NWN staff member.
Last summer, when I first read my schedule for junior year, I was worried about the stress and work load that came with the classes I was going to take.
I decided to take my very first honors science class because, for some reason, I was convinced I wanted to be a doctor and thought that I needed to up my game in the science field.
Seeing "Early Bird Honors Physics" with Martha Lietz made me quite anxious. When I asked upper class men about her, all, including those who were not even taking her class, were unanimous in giving positive feedback: "You're lucky, she's the good one," "She's really smart and she knows what she's doing," "She's so sweet, I call her Mama". Surely enough, they were right.
As my junior year comes to an end, I can say with full confidence that there has never been a day when she fails to make sure students have a full understanding of the curriculum. In class, instead of teaching students straight from the book, she creates lessons that make physics more relevant in everyday life. There have even been instances where she decides to make YouTube videos of lessons that reiterate the notes she taught in class, so that the students have a greater selection for references and a better understanding of the subject matters.
Granted that physics is one of the most difficult subjects to teach students, Ms. Lietz hardly ever turns down students, even when they're students she does not have in her classes, when they come in for help. Often enough, I hear stories of students from other classes who habitually print out her worksheets and lessons because they feel it's the best to learn from.
In not so many words, Ms. Lietz is the epitome of a teacher to all.
In a typical physics class, a student will learn how to calculate the speed and velocity of moving objects and they'll later progress to calculating frequency and tension in a sound wave. But in Ms. Lietz's class, the magic behind the learning happens differently. Her curriculum involves calculating the frequency of a guitar string or a piano chord, it involves learning how to measure yourself so that a four foot long mirror can be manipulated to become a full length mirror, and, it involves students learning life lessons and grammar corrections from a science teacher.
Ms. Lietz's heart and dedication is is exceptional and admirable. Considering the fact that she is an adviser and consultant to AP Physics Development Committee at College Board, she attained the ability to fly across the country to plan and write AP exams, host seminars, co-sponsor the WYSE team, and manage six periods worth of classes throughout the year.
What Ms. Lietz has to offer as a teacher, mentor, and person as a whole is a prominent addition to the school's staff members.
On behalf on Niles West News and the rest of the student body, I would like to thank her for all the time and effort that she gives towards her job as an honors and AP teacher, club sponsor, and, on top of that, an adviser and consultant to AP Physics Development Committee at College Board.