Dylan Fleites: On His Journey, Dreams, & Never Giving Up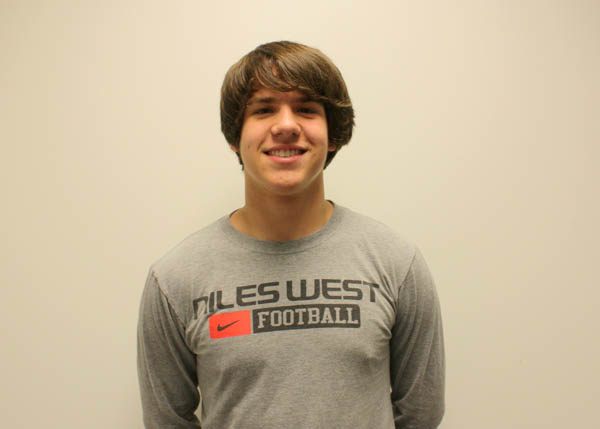 By Alyssa Guzman
May 29, 2013
"When I first saw him, he was an annoying freshman, but then I got to know him and his sense of humor. Now that I talk to him every day he's really sweet. Kind of like a little brother."
Junior Haley Mahoney Muno's first impression on Freshman Dylan Fleites didn't come as a surprise to the aspiring NFL star. He's used to having premature judgments made on him based on his outgoing and eccentric personality.
"A lot of people judge me when they first meet me," Fleites said.
Whether these judgments are based on the fact that he likes to joke around or the clothes he wears (many of you probably remember his outfit on Teacher-Student switch day; Fleites simply stated that he "decided to be a woman teacher"), the bottom line is that there's more to him than just his fun loving demeanor and football uniform. Fleites' actions are based on experiences that he's gone through in the past and the desire to succeed despite all odds.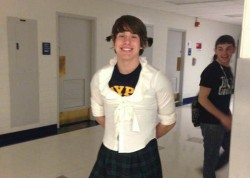 LIFE AT SCHOOL

Freshman year is a big transition, and no one is more aware of that than Fleites. Being on football and track, his primary focus is sports.

"I only care about school when it comes to being eligible for sports," he said.

Though football is his main priority, Fleites has slowly but surely come to realize that he's going to need to take a different approach when it comes to academics next year.

Junior and role model Nick Johnson admits that "he needs to work on his work ethic, and he needs to start now. Hanging out with us (Juniors Garrett Iverson and Boaz Shields) more is gonna get him more involved, and get him in the weight room, and get him practicing more to work on his technique."

Next year, Fleites plans on showing his peers and coaches his full potential.

"This year, I just kind of like shut down grades and I just wanted to be eligible. Like the grades didn't matter as long as I could play sports, but I kind of realized that next year I'm gonna have to keep them better."

Fleites realized that his attitude towards academics has hindered his full potential when it comes to football in terms of how his coaches view him.

"I think that I have the talent [to make varsity] but I feel like the coaches look at my grades and don't think I'm smart enough," he said. 

"

"Football is not just about muscle, and who's stronger, it's about whether or not you're smarter with the plays you make and what you do.""

Fleites started playing flag football in kindergarten, and in 4th grade he began tackle; he's been a dedicated player ever since.

"I do workouts in my backyard every day and I do drills. I feel like it's a waste of money to have someone else show you what to do when you could just learn from watching," he said.

Fleites has big dreams, and he realizes that he has to take big steps to achieve those dreams. Hoping to attend Michigan State University and become a spartan when the time comes, Fleites has already taken the initiative to get his name out there.

"It was awhile ago, and I just sent him an email that I was interested for him to maybe look at some of my plays, and he said sure, so I hope that by the time I'm a junior or a senior maybe he'll give me a call and say that he was interested."

MOTIVATION

Being a freshman and already emailing college football coaches shows an enormous amount of initiative. His desire to succeed has always been instilled within him; it started with his parents.

"Knowing that my family came from [Cuba], they just struggled through things. So, I mean struggling through practices and struggling through playing through an injury is the least I can do for all the things that they did [for me]."

Fleites has three older brothers who all have experience with playing football, but none of them showed the dedication that he does.

"Growing up, I was, I guess, a chubbier kid. I would eat a lot. I always wanted to play running back and just be able to run the ball but they always put me on the line. Then, when I got into high school, I guess I got fast enough and big enough to play running back. Being one of the top running backs or linebackers in the league by the time I'm varsity would be the one thing that I want to prove to anyone who told me I couldn't run the ball or make the big hits that some kids can."

Fleites admits that he struggled a lot while attending his middle school, Queen of All Saints.

"I would come home a lot and I would just eat. I wouldn't stop. I wouldn't say I was depressed at that age, I would just say that I felt like there was something missing."

All of the kids who teased Fleites about his weight and told him that he couldn't successfully play his desired positions is what gave him the drive to prove them wrong. Realizing that football brought him true joy, Fleites decided to make some positive changes.

"

"Going into 8th grade was one of the toughest times for me. It was when I decided that I really wanted to take football seriously and have it a part of me, because it was the only thing that really made me happy anymore," Fleites said."

 The summer going into 8th grade, I just basically starved myself and tried not to eat. I would only eat apples the whole summer, because I thought that was the healthiest thing, and I didn't want to gain any weight or anything. Coming into 8th grade, my teachers didn't even recognize me anymore. They said that I looked like a completely different person, and I guess that made me a little more reassured that I had changed for the better."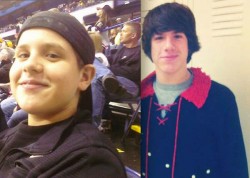 Fleites admits that the people discouraging him were what gave him motivation, but he doesn't have much to say to them.
"I did better than what they said that I could. I mean, in a way I would thank them I guess, because all of the things that they said to me growing up is what pushed me to try to be better… getting a scholarship to play anywhere would just give me the right to tell them that I did what they told me I couldn't."
ON THE NFL
Though Fleites has big dreams to make it in the NFL, he admits that he doesn't follow it as much as he follows college football.
"I don't really think the NFL is that good, because I feel like players in the NFL feel like they've made it and they don't have to do anything else. Like they've gotten their paychecks and everything, but I feel like players in college play as hard as they can so they can get get to the next level, so I like college a little more," he said.
Though Fleites doesn't appreciate the NFL as much as other football fans may, he does admit to admiring Calvin Johnson, the wide receiver for the Detroit Lions.
"I remember that I was watching a E-60 interview with him on ESPN, and I don't really know that much about him, because I don't really pay attention to the NFL as much, but he came from a really rough family when he was growing up, but he came through that adversity and he basically just didn't give up through everything that came his way," Fleites said.
ROLE MODELS
Not only does Fleites admire an NFL star for his hard work, but he also admires senior James Williams in addition to junior Nick Johnson, as mentioned above.
"I just met [James] this year, and he's already become a like brother to me. He was always there for me when I was at a low time, and he basically told me that if I'm in pain I just have to play through it," Fleites said.
Williams has played through various injuries before, and Fleites admires the strength, dedication, and will power he has to continue playing on.
"I had to keep playing for my teammates," Williams said. "I play aggressive, work hard, and I love my team. Having an injury is a minor thing because pain is only temporary. If you want to succeed then why let something stop you? Go out there and take what you want."
Fleites is in awe of the fact that Williams tore his quad and played the whole season, and still managed to get a scholarship to St. Cloud State in Minnesota.
"My goal is to just kind of be like him and play through an injury and not give up, because growing up he didn't really have as much."
"
"I have a lot that my parents can offer me, so I'm gonna try to take advantage of what I have," Fleites said."
Williams admits that as a little kid, he had some anger issues that carried on, so he decided to play football as a stress reliever. In doing so, he met Fleites, who he refers to as "the little brother he never had."
"When I look at Dylan, I see a little bit of myself in him," Williams said. "He is a genuine young adult with a good head on his shoulders. I can honestly say that he has skills on the football field. He has so much potential in him that he will be the main guy that his opponents are going to talk about."
Similar to Fleites and the hard time he went through in middle school, Williams and Calvin Johnson have both had instances where they had to overcome adversity to succeed.
Though his other role model, Nick Johnson, is inspiring to Fleites for different reasons, they are legitimate reasons nonetheless.
"Me and Nick started talking recently. We went to a couple hockey games together. A couple weeks ago, I was going through something, and I was having a problem, and I called him and I was like, 'can I talk to you?' And the next day he came and picked me up and we talked about what was wrong, and he helped me through it. He's great at football, and just everything that he does, he does it to his full ability," Fleites said.
Nick considers Fleites as a little brother, and admits that, "he's a good kid. He's just been through a lot. I feel like the reason I try to help him out is because he's in a position where he needs older male figures to keep him on track. That's why I'm okay with helping him out whenever he needs it."
The changes that Fleites has made have been encouraged by his new friends at West.
"I feel like the kids here, they support me and they're more understanding," Fleites said.
Not only does Fleites look up to teammates and NFL stars, but one of his biggest role models happens to be a former NFL star himself.
Coach Michael Blair was Fleites' freshman coach, and he was also a running back in the NFL for the Greenbay Packers.
"When I seem like I'm not at my fullest ability during practice or something like that, he just pulls me aside and asks me what's wrong."
Fleites appreciates the fact that Coach Blair doesn't simply see him as a player that can lead his team to success, but as an actual person.
"

"He's one of those coaches that really cares about who's on his team and who we are [as people]," Fleites said.

"

A COACH'S PERSPECTIVE
Having played at the highest level, Coach Blair says that he "strongly believes in the psychological aspect of the game," which is why he's able to connect with his players on a deeper level.
"I understand the emotional feels that every player is going through at that time, and at the end of the day we all have adversities outside of football that we have to overcome and have to deal with. The sport of football is where [the players can] let go of that energy of having problems and things of that nature. [Football] is one of the sports where you can go through every emotion in 5 seconds. You can be happy, you can be sad, you can feel irritated. You can feel all those things in that one play, and then you start all over again and you do that for 80-100 plays in the next three hours." 
"
"I know a lot goes into it, and because of that, each athlete needs that attention. They need that outlet to have that discussion with somebody. So I try to talk about that as well as talking about the game.""
Coach Blair is not only able to connect with his players because of his professional experience, but he also owes some of his wisdom to his father, who played professional national soccer for Jamaica. Coach Blair's father constantly reminded him that there's a time and a place for everything.
"At the time he told me that I had no clue what he was talking about, but now as I got older, I understand that fully. It's not just playing the game. It's knowing that you have to be serious when somebody is having a serious conversation with you, knowing that you can't have your emotions get in the way where you can't fully think on the field, knowing that the classroom is the classroom, and you have to be studious in the classroom, knowing that you're not going to school to love the teacher, you're going to school to learn."
Coach Blair uses a philosophy that he calls parallel learning: what you do on the field is what you do on the field, and what you do off the field reflects back onto the field.
"Playing the game is great, it's a beautiful thing, but what you do off the field is as equal or more important than what you do on the field. So that's why it's important to know that there's a time and place for everything," he said.
As far as Fleites goes when it comes to parallel learning, coach Blair admits that Fleites is very athletic.
"Now in his young brain, he has to — just like I did — love the game, but know that there's a time to do education. So once any athlete at this stage understands that [he] can do both, and it balances out, then [they're] headed in the right direction."
A player's mindset is very important when it comes to achieving the big dreams that Fleites has, which is why the journey is one of the most important aspects of reaching the goal.
"Everyone wants to go to Florida for vacation, so that's the end that you're thinking about. Now, what do you need to do to get ready for this trip? [That's the] next question that you [should be] asking, and that's the stage that [Dylan's] at right now. 
"
He's on the journey. So he needs to put his care package together, he needs to pack his clothes, he needs to find out how he's going to get there, and what vehicles he's going to use to get there."
 And so when you're playing a sport, you have to have that same outline as well. That's the stage where he's at, so as an adult and as an independent we need to just cultivate him, and steer him, and give him all the tools that he needs to build this vehicle and take this journey," said Coach Blair.
At this moment in time, football is the main focus of Fleites' life. He's on the journey to reaching his number one priority: playing football for as long as he can, but Fleites is more than aware of the probability of his dreams coming true.
"It's more of a dream, and not all your dreams are going to come true. There's a very slight possibility that anyone makes it into the NFL, and if I did it would be the greatest thing ever, but if I didn't, I could always do something else to make me happy," he said.
That "something else" would most likely be construction or architecture, two completely different fields from his current passion, but his interest in construction comes from his father, who is also involved in the construction business. As for architecture, Fleites enjoys building things out of nothing.
"You just take something and make it into something," Fleites said.
Whether he is focused on making nothing into something in terms of construction or architecture, or making himself into something in terms of football, Fleites always remains realistic.
"As of now with my skills and capabilities [with football] compared to some other kids at other schools, I haven't developed into enough of a player yet that can say I am or am not able to make it the NFL."
 Fleites accepts all of these facts with open arms and an even stronger desire to succeed, and always withstands a positive attitude.
 THE REAL DYLAN
"A lot of people judge me when they first meet me."
"
Though these things used to bother Fleites, his outlook has changed for the better.
In the past, Fleites used to doubt himself. He had thoughts about changing so that people would not think of him negatively, or as a weird kid. Now, though, people's perspectives on him don't bother him as much as they once did.
"On the inside, I know that if I change, I'm not really myself, so I'm not going to," he said.
He admits to being happy with who he is now, and he embraces that which makes him happiest.
"I like to make jokes to make people laugh because it makes me feel like I've accomplished something by making someone else's day better. If someone else is having a bad day or something, it makes me feel better if I can make them have a good day, because I know that, for myself, if I was having a bad day, I'd want someone to try and make it a good day for me."
Freshman Nora Kifarkis says that "he's always making people laugh and could easily lighten up anyones mood, and he's a good person at heart one of those friends that are always there for you no matter what."
Whether he's making people laugh, hanging out with his friends, or working to fulfill his dream of making it in the NFL, Fleites does everything wholeheartedly, and with a desire to succeed.
"I'm a person that doesn't like to give up on what I start. No matter what anyone says to me, tells me that I'm not good enough, or tells me that I'm bad or anything, I just continue doing it. It pushes me to be better and prove them wrong, that I am good enough and that I am better than what they say," Fleites said.