Mark Rigby: From Second Lieutenant to High School Dean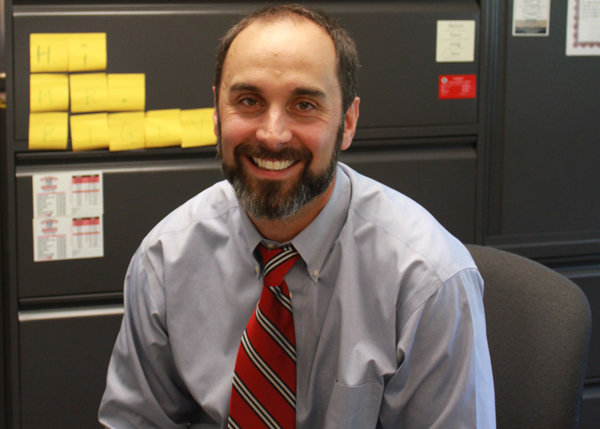 By Giovanna Zavell
May 22, 2013
He's hard to miss, walking down the halls of Niles West. One period he is walking briskly to his office, the next he is smiling, talking to students and teachers.
Senior Audrey Buban enjoys seeing dean Mark Rigby around the halls.
"Whenever I see him, he's always singing. He's singing all the time, and his voice isn't bad. He seems like a really nice person," she said.
However, Rigby has not always been a high school dean. Actually, his first years at West weren't even as a dean, but as a math teacher.
In 1992, Rigby graduated college from West Point, America's military college located in New York. Rigby explains that part of the reason he joined the military was because his father was in the military.
"I was a military brat," Rigby said, laughing. "I moved eleven times before I was eighteen because of my dad getting stationed in different places."
After college, Rigby went into the forces and was active for five and a half years, and he served as a Second Lieutenant initiatory officer. He was stationed in places all over the country, from Fort Benning in Georgia to Fort Campbell in Kentucky.
Rigby also spent some time overseas training in Panama, and he was stationed in Egypt and the Sinai Peninsula for several months.
During his training, Rigby took a number of courses that would contribute to his knowledge and safety while serving. He took part in Army Airborne school, which taught soldiers how to jump from planes while using  a parachute. This schooling helped soldiers gain leadership and confidence in case of emergencies. Rigby also participated in Ranger and air assault school.
"Ranger school basically taught you survival skills, and air assault school was all about helicopters which was pretty cool," Rigby said.
After five years of active duty, Rigby decided it was time to retire from the army life and start a family of his own. " I wanted to have a family," he said, "and I didn't want them to have to go through the constant moving from place to place."
Starting a family was not the only reason Rigby wanted to leave the army. During the '90s, there were lots of small issues with countries like Haiti.
"A lot of these disputes I felt were unneeded," Rigby said. "President Clinton assigned us ways to protect ourselves that I thought were strange. We were fighting in these countries where we really didn't need to be, and I didn't want to give up my life in a place that I was not needed in."
So, after his service in the army, Rigby decided he wanted to teach or coach. So, he went back to school to get the degree and preparation he needed and became a math teacher here at Niles West in 1999. Rigby taught at all high school levels for eight years along with coaching football and track. But that all changed when he was approached one day by a coworker.
"I never really had any want in becoming a dean; it just sort of happened," Rigby said. "I was approached by a coworker who told me that there was an opening for a dean, and they thought I should apply. So, here I am six years later, a dean."
"Rigby is a super cool guy. When you meet with him, it's not like you're talking to a teacher. It's more relaxed, and he's really understanding," senior Sneh Sukhadia said.
Typically, Rigby helps students who are dealing with some issues, or need to work a school related problem out. Despite the fact that he helps students, part of the job also requires giving out detention slips to students. When a student walks into his office, he is able to name them immediately, and in a second he has found a paper with their name on it. He gives the student the detention slip and tells them they need to have it served by a certain date. The student does not argue and walks out.
"The most important thing about being a dean is being consistent with students," Rigby said. "By being consistent, the student can see where I am coming from, which eventually breeds trust. It's not just the students– this trust has to come from parents also."
It is obvious to see that Rigby enjoys his job, although sometimes it can be hectic because of the fast pace with which the office sometimes runs.
"Being a dean suits me. I like helping students overcome their struggles and build trust with each of my students."
There is no better way to describe it other than integrity, which just might be the key to being a successful dean.