"The goals that are worth pursuing are the ones in whichever areas we can truly see passion"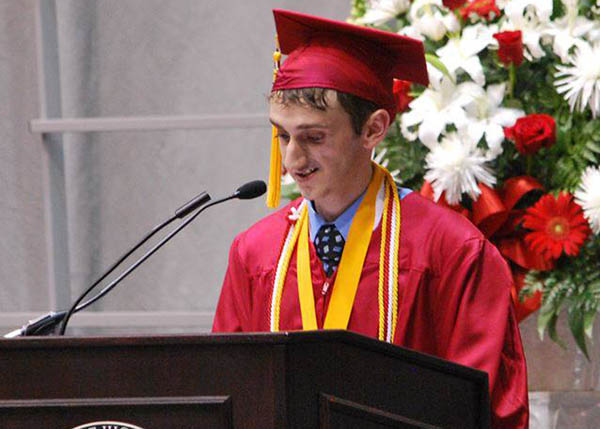 By Gabrielle Abesamis
June 4, 2013
Editor's note: This is co-valedictorian Patrick Liscio's commencement speech from last Thursday's graduation at Northwestern University. This will be the second of three speeches that will published this week. 
Good evening,
My name is Patrick Liscio, and it is my honor to be able to congratulate the Niles West class of 2013 on making it through an incredible four years.  On behalf of the class, I would like to offer my thanks to all of the parents (mine in particular), family, friends, classmates, teachers, administrators, and staff members who made this moment possible for all of us.  Finally, thanks again to Ms. Miller for doing more for all of us than any of us truly know.
Abraham Lincoln once said, "whatever you are, be a good one."
This is certainly good advice; it seems only logical that people should want to do as well as they can at whatever they choose to do.  However, I'm sure that we all know from experience that this is easier said than done.  We are leaving a place in which some of our highest achievements can be indicated by a letter of the alphabet on a report card.  In fact, I'm standing before you today because those letters apparently indicated that I was capable of giving a speech.  Once we reach a point at which we no longer have grades to constantly tell us how we're doing, what can we do to stay motivated to achieve success in life?  After all, hard work is almost never a goal, but rather a means to reach one.  Those who end up being proud of their work must first set a tangible goal that they can work to achieve.
Certainly, success is not just as easy as setting a goal.  If you've seen me try to swim, for example, you'll know that not all goals can be achieved by all people.  It is important, then, to consider what goals to set in order to ensure success.  In almost all cases, the goals that are worth pursuing are the ones in whichever areas we can truly see passion.  Many of us have found this already at Niles West.  For me, this has always been math, which is why I've primarily been involved in things like the math team and the Lit Center during my time here.  For others, this may have been athletics, business, broadcasting, fine arts, or one of a slew of other things that I would never have time to mention in full.  Niles West has given us so many opportunities to find a passion, but the scary thing is that the list of opportunities at West pales in comparison to the opportunities given to us in life as a whole.  Whether you're looking for a college major, a job, or just a hobby to do on the side, I can guarantee that every person here can find something that inspires him to get up in the morning, and finding that passion is the first step to success.
Once we have that one thing that can inspire us to keep working, there may be one foolproof way to ensure that we get the results that we want, and that is the desire to improve ourselves and become the best that we can at whatever we choose to do.  If we can become our own motivation, then we're already on our way to success, and if we're doing something we're passionate about, then the desire to improve shouldn't be a difficulty.  As Rachel, my fellow valedictorian, said so eloquently before me, success is not necessarily about the end result, but about the work that goes in to reaching that point.  Because of that, if you can find a way to motivate yourself to put in that work, then time is the only thing separating you from success.  So whatever you decide to do with your life, make sure that it is something that you enjoy enough so that you're willing to put in the time to do it, and it will be almost impossible to fail.
 Thank you.