Poms Qualifies for State
By Nick Goldwyn
February 28, 2011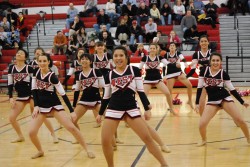 The varsity Poms squad did something they had never done before in school history on Feb. 6: They qualified for State.
The girls took second place in the AAA Hip Hop category (on a routine choreogrpahed by junior Mary Vo) at the Stevenson Invitational–and in doing so, earned their first trip to the state competition,  in school history. The team will compete at the Illinois State Championship on Sunday, March 6, at Carver Arena in the Peoria Civic Center.
"I was surprised that it's never been done," said c0-captain and senior Kirstie Beck. "I didn't expect it. We came so far. We have a really good chance to win. Our choreography is a lot different than other schools."
Senior Teagan Smith agrees.
"I'm really excited to extend our season, especially because we didn't have a chance to go to Nationals this year," she said.
The varsity team members who will compete include: seniors Jessie Barajas, Kirstie Beck, Mimi Kapechuk, Anne Kim, Aundrea Martinez, Jenny Menchavez, Teagan Smith, Denise Tossi, and Elizabeth Tountas; and juniors Nicole Bonner, Marie Castillo, Emme Deamont, Nicole Kim, Sandra Lee, Elizabeth Mangulabnan, and Mary Vo.
Christine Selander, a student teacher in the P.E. department, coaches the team.