From Stevenson Patriots to Niles West Wolves: Amy Tucker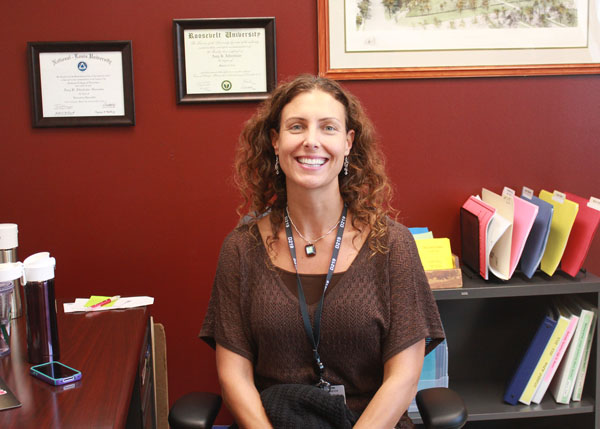 By Ashley Pak
September 5, 2013
With the new principal and teachers, it only seems necessary to know more about the new dean, Amy Tucker. The NWN got to sit down and ask a few questions dealing with Tucker's transition from Stevenson High School to Niles West; two schools that are different in population and diversity but same in most interventions.
ABOUT NILES WEST
NWN: How did you hear about Niles West?
Tucker: I was in Northbrook, and I heard about Niles West. I heard a lot of good things about the education and it had a good reputation. I was looking for a job, and I was excited Niles West had an opening.
NWN: Before you became the new dean, where did you work and what did you do?
Tucker: I was at Stevenson High School as a coordinators of student services.
NWN: What do you know so far about West?
Tucker: Well, the students are very friendly and they say "hi" in the hallways. The rigor of academics and support system is outstanding, and it's wonderful that so much focus is on race and equality. Those are the first things that stuck about Niles West.
NWN: What are some of the responsibilities you are ready to take on?
Tucker: Hopefully all of them! I'm ready for anything like building relationships with the school and kids.
NWN: What are you looking forward to this year? 
Tucker: Learning my way around the school and learning about the culture here is probably my biggest focus.
NWN: What is something you would like all students and staff to know about you? 
Tucker: Even though I am in a position of discipline, I want to be approachable and make students feel safe in this environment.
NWN: What lessons do you hope to teach to the students at Niles West?
Tucker: It's very hard at a young age to understand that sometimes there can be lasting consequences of actions. Think about it.
FUN FACTS
NWN: What do you like to do during your free time? 
Tucker: I like to swim. But I also have five kids at home so I'm busy with them! But I also like to bake and cook.
NWN: What did you major in college? Where did you go?
Tucker: I know it's random, but I majored in math and history. I went to Miami University in Ohio.