One Gym Teacher, One Science Teacher; The Ramseyers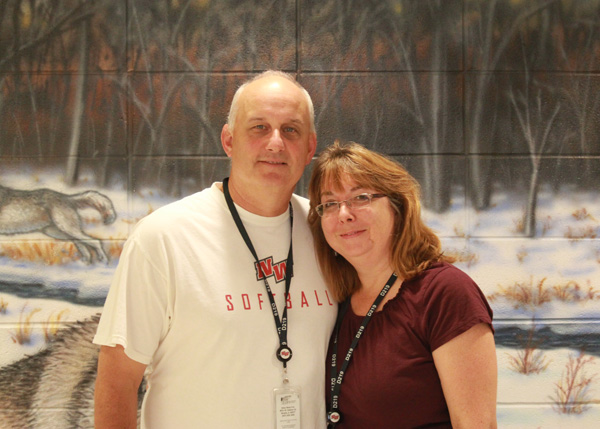 By Giovanna Zavell
September 13, 2013
Believe it or not, thirty years ago Niles West had only three security guards throughout the entire school. That's right, three. Steve Ramseyer, fresh out of college, returned to the high school he graduated from in 1979 to take a job as a security guard. Steve monitored almost everything going on in the school by himself, when today around fifteen security guards monitor. He walked the floors, surveyed the parking lot, and took care of truancy, which is finding out why certain students do not show up for school.
Fast forward eight years to 1992, and Steve is walking the halls once again, when he stops to talk to a new science teacher, Elizabeth.
In 1994 a gym teacher retired, and the principal at the time, Dr. Gene Rutherford, hired Steve to become a physical education teacher. Rutherford also suggested that Elizabeth and Steve date. So, in the spring of 1994, the two started to date.
"And in 1996 we became Mr. and Mrs. Ramseyer," said Elizabeth. "The only way a science teacher and a security guard/gym teacher could meet would be if one of them [Steve, being the security guard] would walk the third floor hallway."
Steve is starting his 29th year at Niles West, and Elizabeth is starting her 21st year, and their son, Connor Ramseyer, is starting his first year at West as a freshmen.
"Even though he is a freshmen, Connor has been in this school since he was six months old," said Elizabeth.
"It's more like his thirteenth year as a freshmen," said Steve laughing, "he has definitely been a big help to his friends by showing them around the building."
The Ramseyers really don't see each other very often through the day: Steve being on the first floor, Elizabeth being on the second, and Connor everywhere in between. But when they do see each other, it's usually a quick hello, and then back to their classes.
"You'd have to ask him how he feels about us being here," said Elizabeth. "We don't hover over him, we let him go about as if we weren't here. We do know where his locker is, but that's about it."
"It is a little weird having them at school," freshman Connor Ramseyer said. "They always say hi to me if we pass each other in the hallway. There is a little advantage to having them here though. For example, the other day I needed something printed and I didn't have time to do it, so I asked my mom to print it, and she was able to."
Elizabeth and Steve both agree that working at the same school and having the same days off makes scheduling a very easy thing. But there is one difficult part of having three family members all go to the same school.
"I have to keep track of three of these!" said Elizabeth holding up her ID. "Most households have only one, maybe two. But I have three!"
So students shouldn't complain about having to find their IDs when they only have one. Imagine if you had three to keep track of everyday.