Q & A with the New Teachers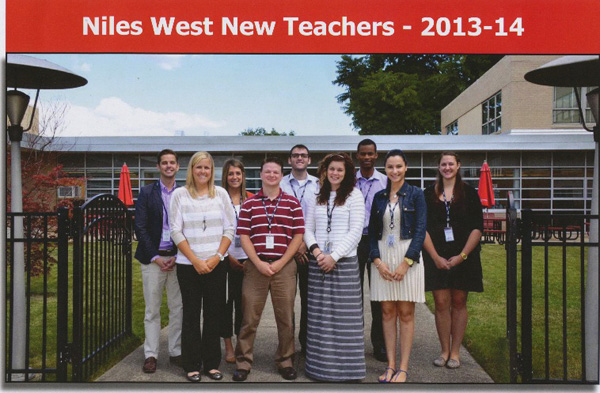 By Isabel Prale
September 4, 2013
The NWN sat down with the new teachers: Geometry and Algebra 2 teacher, Sean DeFlice, Special Education, Global Studies, and IIC teacher, Robert Chihoski, Culinary teacher, Kaitlin Romanchuk, Math teacher in the Lit Center, Katie Odell, German 1, German 2, and intro to Spanish teacher, Thomas Neal, Freshmen English teacher, Christy Koulouris, and Freshman and Sophomore English teacher at West and North, Alexis Matesi.
NWN: How many years have you been teaching?
DeFlice: This will be my sixth year.
Chihoski: I've been in education for eighteen years.
Romanchuk: This is my third year.
Odell: Well, it's my third year in the district but my sixth year in total.
Neal: This is my seventh year.
Koulouris: This is my first year.
Matesi: This is my first year.
NWN: What other schools have you taught at before?
DeFlice: I've taught at a charter school in Chicago last year, and before that I taught in Milwaukee for four years.
Chihoski: I was a cadre at north, I also taught in Waukegan and a middle school called Melgin.
 Romanchuk: Stevenson High School.
Odell: Wheaton North High School and Mt. Carmel.
Neal: Urbana High School
NWN: How does Niles West compare to other schools?
DeFlice: Niles West is probably the most diverse school I've been at. It has the most resources available to students and a phenomenal athletic department that other schools don't have.
Chihoski: It's not much different, kids are kids wherever you go, but it is very diverse here.
Romanchuk: It's a smaller school than I'm normally used to to and everyone is really friendly here.
Odell: The family like atmosphere and the students and faculty are all outgoing.
Neal: The oral language department, my colleagues, and how enthusiastic the kids are to learn.
NWN: Were you nervous on your first day here?
DeFlice: Not really, there was a orientation week for new teachers. I also have an amazing mentor; Mrs. Branis.
Chihoski: No because I subbed here last year.
Romanchuk: I was a little nervous.
Odell: No, everyone is really friendly.
Neal: I was more anxious to learn where everything is and learning all the students names.
Koulouris: Well, I graduated from Niles West a few years ago, so I was already comfortable with the staff and the school itself.
Matesi: No, I feel prepared enough and I knew I was ready for anything that was going to come my way.
NWN: What's your favorite thing about teaching here at Niles West?
DeFlice: The connections I've made with the students already.
Chihoski: Helping students achieve their goals.
Romanchuk: It's smaller and very diverse.
Odell: The diversity, you can see all kinds of students and how hard students and the faculty work are just beyond other schools.
Neal: It's a lot bigger, with more clubs and more opportunities for the students.
Matesi: It's very relaxed and has a very supportive community.
NWN: Is teaching at Niles West something you want to do for a long time?
DeFlice: Yes, I hope to stay here for a long time and keep teaching math.
Koulouris: Yes I want to do this for the rest of my life. Since I was a little kid I would line up all my stuffed animals and read them stories and pick on them. And they slowly my imagination turned into reality when I started working here at the Lit Center as an English tutor, and then an English teacher. I'm so glad I'm teaching high school students now.
Matesi: Yes I want to stay here for the rest of my life and I also hope to coach volleyball here one day.
NWN: What made you want to come back to Niles West and teach?
Koulouris: I had a great four years here. There were a lot of teachers I had who inspired me to come back and work here.