Loyd's Last-Second Basket Shoots Lady Wolves into Sectionals
By Nick Goldwyn
February 18, 2011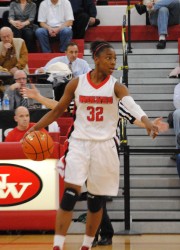 After Jewell Loyd had hit the final shot–the almost-a-buzzer-beater that defeated New Trier (46 to 45)–after the crowd went crazy and stormed the court, after the nets had been cut down, after everyone was chanting "MVP," and the Regional championship had been awarded, after all that, this morning in the halls instead of on the court, the only thing on Loyd's mind was the elation she was feeling.
"I don't even know, man, I was just so happy, " said Loyd in between Journey sessions.
With last night's win, the Lady Wolves advance to Sectionals on Monday, Feb. 21 against Glenbrook South at Maine East High School at 8:10 p.m.
"We knew that it would be a dog fight," said varsity head coach Anthony Konsewicz. "It was a very exciting game. The fan's support was great."

From the get-go the Wolves scored in spurts: they started the third quarter on a 10-0 run (Loyd scored seven of them), pulling ahead of New Trier (at one point by as many as 12) and slowly letting them creep back in.
Sophomore Molly Kleppin started the game with the first seven points, and Loyd had four in the first quarter (despite missing every jumper she took). The game slowed down after the first though and became a defensive struggle. Loyd continued to score on a consistent basis (eventually finding her jump shot) until she was pulled during the third quarter, after picking up her fourth foul.
The fourth quarter was a back-and-forth affair. With Loyd back on the floor, the Wolves would get ahead by three and New Trier would come back to tie it–and so on and so forth.
When the final last second shot by the Trevians had been heaved (from half court), Loyd had 24 points, Kleppin had nine, senior Laurie Dijohn had six, and senior Nicole Moy chipped in two.