NWTheatre to Perform "The Dream of the Burning Boy"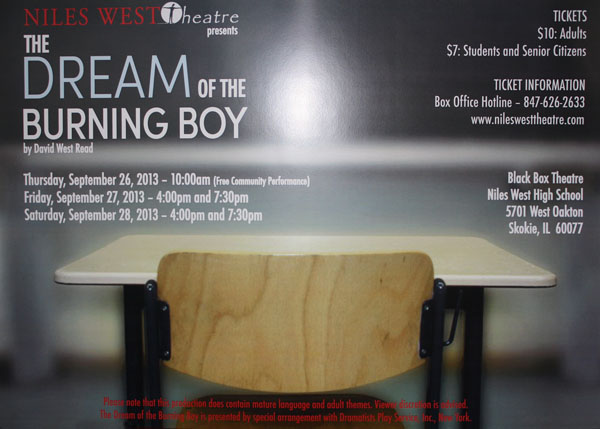 By Fatima Farha
September 25, 2013
Hang on for a minute...we're trying to find some more stories you might like.
The thespians will be performing "The Dream of the Burning Boy" Thursday Sept. 26 to Saturday Sept. 28th in the Black Box theater.
"The Dream of the Burning Boy", written by David West Read, is a drama which centers around family, love, friendships, and grief.
According to theatre director Andrew Sinclair, this is a play that will differ greatly from previous shows that the thespians have put on due to its maturity level and the serious, dramatic tone it requires.
"When I first read [this play] I couldn't put it down or stop thinking about it. It's a difficult show, and everyone has been working very hard on it. It revolves around the idea of how everyone handles grief. The play explores how people don't fulfill stereotypes [concerning grief]," Sinclair said.
Sinclair also notes that this performance will consist mostly of upperclassmen actors, and is going to have a cast of only seven people, all of whom are vitally important, along with the audience, whom he feels are the eighth major component of the play because they are so close to the production. The play will concern a sudden even that will render all of the characters of the play to deal with secrets in a whole new way, something that Sinclair hopes will bring a message to the viewers.
"This play is about secrets, and the freedom that comes from telling the truth even if it is difficult," Sinclair said.
Junior Sherlina Chauhan, who plays the main character's girlfriend, insists that this play is very close to the viewers not only because it is taking place in the Black Box theatre, but also because of the reality that it deals with, which many high school students can connect to.
"The big thing for me is that it's realism. It takes place in a high school. These are characters you would know in your life. The message is something everyone interprets differently so I won't tell you what people should think it's about. There is real emotion. This is in the black box and its up close and you are so close to the scene so it feels very intimate. People like to see their own life and this is a show about real life and real life things that happen," Chauhan said.
"The Dream of the Burning Boy" will have its first performance as a free community performance at 10:00 A.M. on Thursday, Sept. 26th in the Black Box theatre. It will continue on Friday, Sept. 27th and Saturday Sept. 28th with two showings each day, one at 4:00 P.M. and the other at 7:00 P.M. Tickets will be sold outside the Black Box theatre or can be pre-purchased from a member of the thespian crew. It is seven dollars for students, and ten dollars for everyone else.