5-0 Wolves in the Hunt for Playoff Berth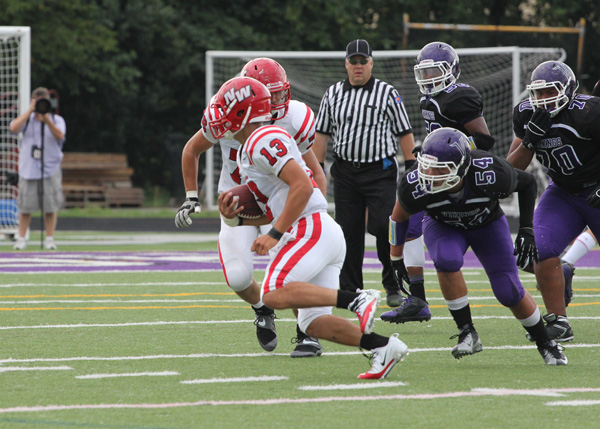 The Wolves Varsity Football Team now has a 5-0 record after a convincing 23-17 win against the Evanston Wildkits Friday, Sept. 28. But they now must turn their attention to their next opponent: the Waukegan Bulldogs.
West is now focused on beating Waukegan Saturday, Oct. 5 at 1:30 pm clinch playoff spot. NWN got a word with Coach Scott Baum about the huge upcoming game at Waukegan.
NWN: How does it feel to go into this Waukegan game 5-0 and that this win could clinch a playoff spot?
Coach Baum: The playoff goal is awesome and we have been working for it every game and to come this close to clinching the spot we will have to work that much harder than the game before in order to beat Waukegan and get the playoff spot we have worked for.
NWN: How do you think the team will perform against Waukegan and how are you preparing for this game?
Coach Baum: Every game we have prepared for we treat like it is our last. We have taken advantage of the extra practice day because our game is on a Saturday, so the extra day of practice every week has definitely helped us.
NWN: What will be the biggest challenge for your team to clinch this playoff spot?
Coach Baum: Our biggest challenge is ourselves. Last week we were beating ourselves up a little bit but came through. Waukegan has a great Quarterback-Receiver Combination and we will have to rise up to the challenge and stop them on Saturday.
Saturday, Sep. 28 was a sweet victory for Niles West as they ousted their rival Evanston Wildkits with a 23-17 victory. The first quarter conluded as The Wolves  are in advantageous scoring position . First Quarter ended 7-0 Evanston out ahead.
NW was forced to boot the ball with 5:12 left in the first half. Junior punter Jeremy Pignato smashed the ball for a whopping 74.5 yard punt– breaking the school record for longest punt. With Evanston's possession now on their own 1 yard line went 3 downs with no luck and were forced to punt from their own 4 yard line with 3:48 left in the half. Senior John Kruk caught a pass from Galanapoulos for another Wolves touchdown. Kicker Filip Dominski hit his second PAT of the day, tying the game at 14-14. The rest of the half remained scoreless and the win was up for grabs going into the second half with a very close matchup.
The halftime shows included performances by Niles West's Cheerleaders, marching band and varsity pommers.
NW unable to score a touchdown, Wolves kicker Dominski nailed a timely field goal, putting the Wolves up 17-14 going into the final quarter of play.

West now had possession of the ball with 6:16 left in the game, and Galanapoulos made the most of it: he threw a 15 yard pass to junior receiver Quran Spillman who juked out the opposing cornerback and ran 70 yards after the catch for a touchdown. The PAT attempt was blocked by Evanston, however,  making the score 23-14 with the Wolves ahead.   Now with limited time, The Wolves ran out the clock to ensure the victory and keep the winning streak alive. The Wolves won the game with a final score of 23-17
Johnson, who had key tackles, sacks and a fumble recovery, was happy with the way his team persevered.  " We performed very well, were disciplined throughout the whole game," he said, "and we came through with a great win as a result."
West will need all they can get out of Johnson and his fellow defensive players and focus if they want to contain Waukegan's potent QB/receiver combo.