NAMES Assembly to be Held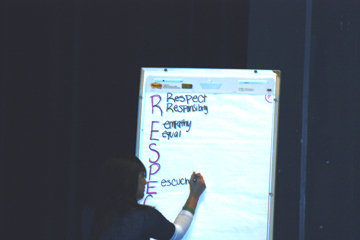 By Wed Jassar
October 7, 2013
In an effort to promote bullying prevention awareness, the annual  NAMES assembly for the freshmen will take place on Tuesday, Oct. 8 in the school auditorium.
The NAMES assembly teaches the consequences of bullying and gives  a chance to reflect on your own life and tell your own story in a safe and respectful environment.
"The NAMES assemble is very serious, and it brings you closer to your classmates. It also opens your eyes to the hard things people are going through. You really have to go in there with an open mind and think [about] realistic changes you can make,"seniors Sahar Khalid and Maria Pfaffinger said.
"The NAMES Assembly is the best program to be a part of at Niles West. Being a panelist for the NAMES Assembly allows you to get up in front of the Freshman class and teach them the physical and emotional consequences of bullying. Bullying is not tolerated at our high school," senior panelist Mahnoor Bhatti said.
Khalid and Pfaffinger also recommend everyone to respect others.
 "And don't forget to be respectful when people go and share their own stories,"  Khalid and Pffafinger said.