Wolves Football Break School Record 6-0 and Ensure Playoff Spot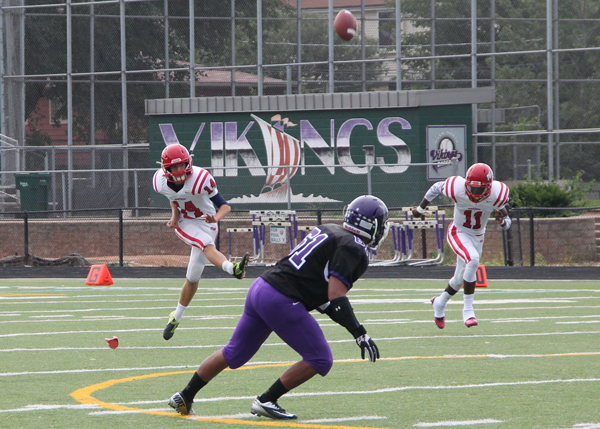 The Wolves finished what they started on Saturday, Oct. 5 after the game was postponed due to lightning. They polished off The Waukegan Bulldogs at their own homecoming game. A final score of 37-22 put The Wolves at 6-0, shattering the Niles West  record for best start to a season. The NWN had the chance to catch up with junior quarterback Tommy Galanopoulos ,head coach Scott Baum, and senior Emmanuel Obeng to discuss the team's season that's quickly finding its way into the record books.
NWN: How do you feel going into your game this weekend 6-0?
 Galanopoulos: 
We have a lot of momentum and we've been playing really well. Hopefully the whole school will be out there, supporting us, because it's really exciting– the first time we've ever done it. It'll be a really exciting game Friday
NWN: Is your prep work for this game(vs. Maine South) any different than for another game?
Galanopoulos: [Our preparation for the Maine South Game] is not really any different. We just know that Maine South, every year, is a playoff-bound team. They're really good, so we have to prepare a lot harder, practice a lot harder and push each other to be better"
NWN: This is the first time in school history for a football team to have a 6-0 start. How does it feel to be the first to accomplish this great feat?
 Obeng: It feels good and we worked really hard to get to this spot.
NWN: How far do you expect to go in the playoffs with this team?
Baum: We are going to go one week at a time and a lot has to do with the luck of the draw and the luck of the weather.  We are going to work hard toward winning some games and not get over our heads.
NWN: What are your expectations for the team's performance going into the next 3 games against the "powerhouse" schools.
Baum: We divided the season in 3 sections. We know what we are getting into but going into these next games with 6-0  is giving us some confidence.
NWN: How will the team maintain their focus during the rest of the regular season knowing they are already in the playoffs?
Baum: We made the playoffs last year and got beat pretty good. The celebration wore off quickly and so this year the team is still modest and taking it game by game.
The Wolves take on Maine South October 11, Friday night at home. Come support the record breaking Niles West Football team.