Meet Me In A Minute: Liam Waters And His Bagpipes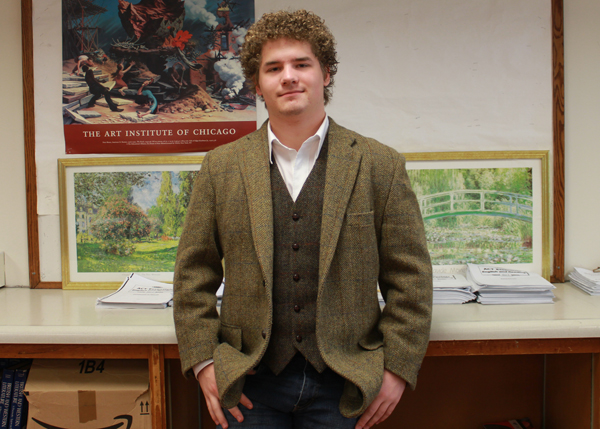 By Ashley Pak
October 29, 2013
It's 3:22 in the afternoon, and every single student sitting impatiently at their desk knows what's going to happen in one minute. While everyone is scramming to get out of school, the sounds of the bag pipes fill the hallways. Heads turn, trying to find the source of the sound. Upperclassmen know this happens every year, but the freshmen and sophomores stare with confused facial expressions. Everyone is bound to see senior Liam Waters walk down the halls of Niles West after 9th period playing his well known bagpipes on St. Patrick's Day.
Fellow orchestra classmate and senior Joerlyn Manalang remembers seeing Waters playing his bagpipes in class and after school.
"I thought how crazy it was that one person could make that sound on his own. It seems like a difficult instrument but he makes it look easy," Manalang said.
Waters began to find interest in bagpipes at the end of 6th grade, being the first person in his family to play. He found an Irish organization, the Chicago Academy of Piping and Drumming, that gave free lessons to anyone. Devoting one year to just practice notes on a chanter, a type of recorder, he began to dig deep into his Celtic ancestry.
"[Bagpipe] is hard and it's not easy to pick up," Waters said.
However, learning how to play the bagpipes wasn't the only difficulty Waters ran into. Finding a place to practice such a loud instrument was a hassle, and practicing outside depended on weather. When he did play outside, Waters would go play by the backfield of Fairview South school, or go to a park with nobody present. Sometimes he would use one of the practice rooms at Niles West.
"Liam and I have been friends since the end of 6th grade. We have always been close. He's a crazy guy, I mean rugby and the bagpipes? Who does that? But it adds to his awesome character. We've been to many concerts together and we hang out and play xbox all the time," senior and old friend George Enwia said.

With his family and friends supporting him, Waters began to play competitively.With a band, Waters played with other students for different titles at different tournaments. The band participated in Chicago Highland Games, one of the biggest variety competition. There were also competitions where he had to travel to Michigan.
Taking multiple AP courses and extracurricular clubs, he stopped playing competitively junior year because it was to hectic in his already busy schedule. Now, playing the bagpipe is something for fun to Waters. However, it's safe to say Waters has balanced school, social, and extracurricular activities that helped him in the long run.
Another middle school friend and senior Smita Jain experienced growing up with Waters inside and outside of school.
"Well I've known Liam since sixth grade when he came to Fairview, and honestly he has become nothing less than a brother to me over these years. He is in my AP Literature class this year, and he's the one guy you can count on to say something smart, meaningful, and thoughtful on any topic. Liam is an incredibly intelligent guy, but also an amazing friend and person. I think he's probably the only guy at this school who can pull off a kilt and play the bagpipes with everyone watching him," Jain said.
College in less than a year, Waters has been interested in Medieval English Literature and hopes to be a professor in that department. He is applying to  Cambridge and some colleges in Scotland.
"I imagine myself picking [bag pipes] back up. If I went to Scotland for college, I think it's a given," Waters said smiling.