"Title Of Show" Proved to be Funny and Entertaining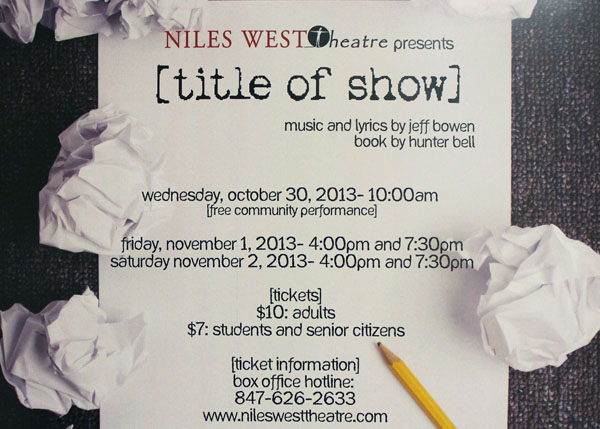 "Title of Show" was the funniest theatrical performance I have seen in a long while.
Four people, each with a unique personality that is crazy yet relatable to most of us, kept me laughing throughout the play. The references to "Into The Woods," "Cheetah Girls," "Wicked," "Lord of the Rings," "Rent," and even "Avenue Q," a play being performed later this year by Niles West Theater, made the play even more comical.
The set worked well with the play. The hardwood floors and playbills framed on the wall quickly caught my eye along with pictures of the characters. The chairs used onstage were simple which went along well with the characters. They had lots of moving around to do so of course the chairs had wheels.
You would think a musical that has been on Broadway would have more characters, an elaborate set, and lots of instruments but this musical only required five actors, a keyboard, and a small set. That was the beauty of it. You didn't need all of the flash and glitter to see that this is a good play. It was more realistic and it was no trouble to connect with the emotional state of the characters.
Some of the best parts of the play were the songs and the moments when they would stop to correct each other in the middle of a song. I loved the blatant sarcasm from all the characters and the musical numbers made me laugh. My favorite song had to be "Die Vampire, Die" which talked about insecurities as vampires. The song also talked about never losing faith in yourself. Anything you create will be wonderful because it was born from your imagination.
"A vampire is any person, thought, or feeling that stands between you and your self expression."
There were parts with emotional scenes and songs that senior Surdeep Chauhan, who played Hunter, displayed very well. We've all had points where we were frustrated with writing an essay or paper, and his character was stressed about writing a whole play. Sophomore Nicole Miller played Heidi. Her solo for "A Way Back To Then" was spectacular. Her voice was beautiful and she hit the highest notes on point.
The character Jeff was played by senior Cameron Broderick. He was very charismatic throughout the whole show and brought great energy to the stage that brought his character to life. Junior Sharon Pasia played Susan, a unique character with humorous sarcasm and a business-like manner.
Congratulations to director Andrew Sinclair and the cast and crew of "Title of Show" on their masterpiece of a play. It deserved a standing ovation.