National Stand Up Week Starts on Monday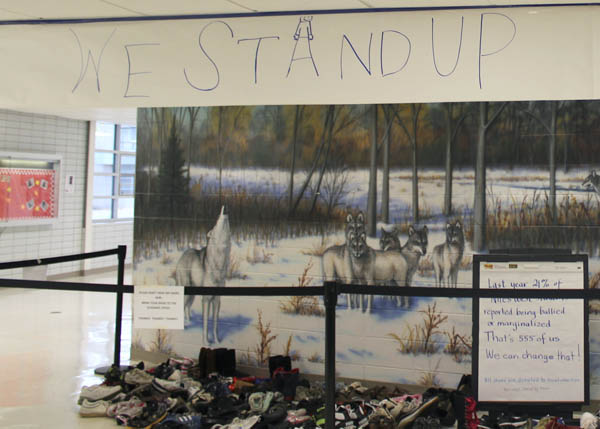 By Rand Jassar
November 15, 2013
National Stand Up Week will run from Monday, Nov. 18 through Friday, Nov. 22.
The Week is held with different activities that help raise awareness about the dangers of bullying and how to stop it.
"National Stand Up Week is a week dedicated to making all members of school communities more aware of what we all can do to stand up to bullying in our schools," Guidance counselor and peer mediation sponsor Yvonne Miller said. "By promoting awareness and giving students tools to 'stand up,' Niles West is participating in a conversation that is going on that week across the country and even beyond the US."
Miller also said that about 555 students (or 21%) reported they were bullied or marginalized last year at Niles West.
"[We've made] a big shoe display in the Oakton entrance and we're aiming for 555 pairs," she said. "We want to 'stomp' out that statistic by learning to stand up and by cultivating kindness."
Peer mediation leader and senior Sharon Mathew talks about why students need to stand up to bullying.
"Sometimes you and I go about our day in different areas of the school hearing just incredibly rude things and uncultured comments and wonder like, 'Wow, did you really just say that?'" Mathew said."I think there are plenty of people in this school who also observe things that are unnecessarily mean; they just need the confidence to stop being mere bystanders and practical ways to be upstanders. [That's] why they should get involved next week through different activities."
According to Miller, some of the activities that can be expected during that week include showing "Documentary Bully" in the IRC and the In the Know bullying awareness video during homeroom. Along with that, T-shirts and wristbands will be worn throughout the week along with workshops lead by the Peer Mediators.
You can donate any shoes you no longer need. Shoes collected will be given to Salvation Army and other local charities.