Lady Wolves Show Class, Pull Past GBS
By Nick Goldwyn
February 23, 2011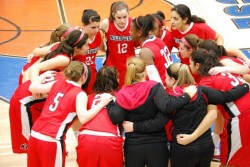 Long after the Lady Wolves defeated the Glenbrook South Tigers (44-29) on Monday, Feb. 21 and the Niles West student section had already finished their chant of  "start the buses" and most of the crowd had already filed out, the team was still on the floor signing autographs for the children in the stands.
Varsity head coach Anthony Konsewicz said that the autographing, which the players decided to do, "was nice for the little kids." He also added, "the girls should be role models."
As for the game, which occurred before the autographing session, it was easy. Junior Jewell Loyd started the game with 10 points (in the first quarter) and senior Laurie Dijohn had six (going two-for-two from three). After Dijohn's first three-point shot (the first points of the game), the crowd erupted with a chant of "this one's over."
The Tigers pulled within six at the end of the half, but it never seemed as close as the score said it was. With stifling defense on the part of the Lady Wolves and tons of GBS turnovers, Niles West pulled ahead at the start of the second half, and never looked back. The Wolves were up 10 (34-24) at the end of the third, and won the game by15.
The Lady Wolves were lead by Loyd who had 20 points in the game; senior leaders Dijohn and Nicole Moy had six and four, respectively; key contributor sophomore Molly Kleppin had two; and freshman standout Dashae Shumate chipped in 10.
The Lady Wolves play Maine South on Thursday at 7:30 (at Maine East) for the Sectional title. To see more pictures from Monday night's game, see our gallery.