Triple Option: The Bears Quarterback Situation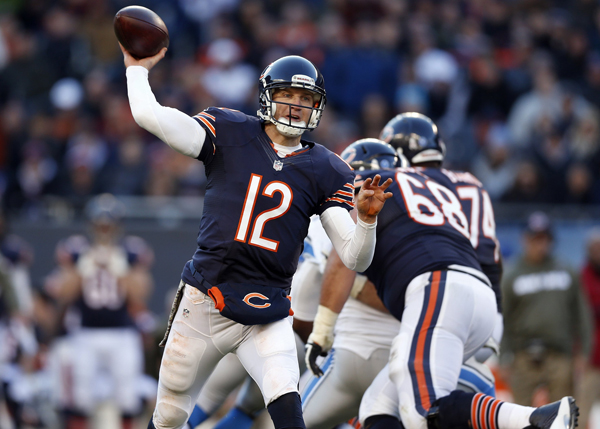 By Danny Thompson
November 20, 2013

Should the Bears stick with Josh McCown, or turn back to Cutler once he's healthy?
This is (or rather will be in two weeks) a very sticky situation for the Bears. Cutler has been ruled out for this weekend's game against the Rams, but will most likely be cleared to play the following week. Right now, the Bears have two viable starters at quarterback. That's right, I said two. While logic would dictate that the Bears should bring back the franchise quarterback that they're spending eight and a half million on this year, that plan may have some flaws. Josh McCown is winning football games right now, and as the Lions game showed us, maybe we should stick with him.
Over the four games McCown has appeared in, he has thrown five TDs, not a single interception, and has led the offense to 19.25 points per game, while starting only half of those games. Over Cutler's eight appearances (six starts), Cutler has tossed 13 TD's, eight picks, and is driving the offense to 21 points per game.
It's a tight race, and no one would be shocked if you stood in either player's corner, but here is the main reason why I like McCown to start the rest of the season, or at least until he begins to struggle: he simply throws the ball better. You can tell the difference when watching the two play. Cutler has this wild west gunslinger mentality that makes him think he can throw the ball anywhere from any position on the field, and the results will be positive. This leads to holding the ball too long (the reason why he is injured and we are in this situation in the first place), poor mechanics (foot placement, tightness of spiral, efficiency of motion), and throws into double and triple coverage.
While there are many times that Jay does come out on top and makes an amazing throw to Brandon Marshall or Alshon Jeffery in the endzone, there are a lot of situations that leave us fans (and his coaches) shaking our heads. Now, as I said, Cutler is a gunslinger, McCown is a sniper. When the ball comes out of his hands it always has a perfect spiral on it. Even among the NFL's elite, that is hard to do with such consistency. You may ask why a tight spiral is so important, and for those who don't understand it is because every time the ball wobbles in the air, it moves just that much away from the spot the quarterback was aiming for, and slows down as well, making it much easier for a defender to intercept. I have watched McCown on countless occasions being dragged down by a defender and still manage to fire a perfect pass to his receiver. Good passing mechanics are underrated in the NFL, and after watching McCown, a fundamentally sound quarterback, take over for a less fundamentally sound quarterback, I can appreciate their importance that much more. McCown is poised in the pocket and plays with a skill set that conceals the fact that he was coaching high school football in North Carolina mere months ago.
As I mentioned earlier, my proposal for the situation is to start McCown until he really begins to struggle or gets injured. The Bears will most likely not do this, as there would be questions surrounding Cutler's job stretching into next year because he is an unrestricted free agent after the season. Simply put, I'll be happy as long as the Bears win games, and the best way to do that is to start Josh McCown.