Sophomore English Students Donate to Charities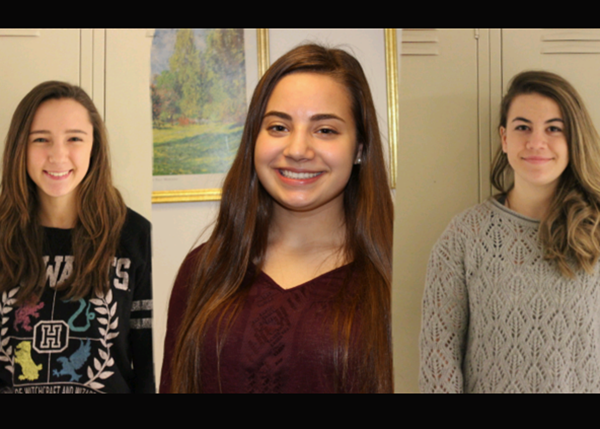 By Giovanna Zavell
December 6, 2013
Three sophomores, Jackie Chis, Elizabeth Witt, and Kate Silberg were recently chosen for the winning charity research paper for English teacher Sharon Swanson's class.
For 10 years, Swanson has been assigning her sophomore students to write a charity research paper. Each student picks a charity, and then researches everything and anything about that specific charity; how much money goes to services and employment, where they are located, what they do, and what they provide. Each paper is then judged and students bring in money to donate to the winning charity, usually around $5. Additionally, Swanson donates the equal amount of money raised by students.
"I think it's really important for students who lead good lives to be aware of the important and real factors that others suffer from in their day to day lives," Swanson said.
Three winners were chosen from Swanson's two sophomore classes. Chis won in Swanson's third period class with her charity Canine Companions for Independence. Runner up Witt also won with her charity Doctors Without Borders.
"I chose Doctors Without Borders because I heard a lot about them, and when I researched more, I was stunned at the amount the charity does and has done," Witt said. "I'm really glad that we split the money [$75 dollars went to each charity,] because I knew the money would be going to help with the disaster relief in the Philippines."
In Swanson's sixth period class, Silberg won, donating $150 to Doctors Without Borders.
"Ideas like this project just come out of nowhere," Swanson said. "I know this one sparked from the mysterious person who goes around during the holiday season and puts gold coins into the Salvation Army buckets. Regardless of this project, I donate to a number of charities on my own. I just think it's a really wonderful thing to do."