Doctor Who 50th Anniversary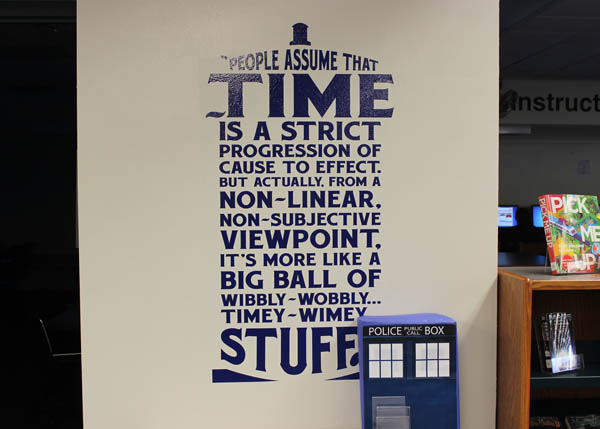 In order to celebrate the "Doctor Who" 50th anniversary, Niles West's IRC decided to put together some exciting decorations and activities for not only the Whovians, but also for those who have always wondered what "Doctor Who" is.
"Doctor Who" is the longest running British sci-fi television show that has been a favorite for anyone who has ever watched it. The story, to put in simple words, is about a time-traveling Time Lord humanoid alien with two hearts who journeys through time and space with sassy companions in his police box time machine called the TARDIS. The reason behind its longevity is not only due to its popular storyline and intricate plots, but also due to the way the producers keep the show fresh. Since the Doctor (the main character of the show) is an alien, he is able to regenerate his body when he is dying. So, as soon as one Doctor dies, another takes his place. Because of this, there have been eleven characters to date to play the part, and this has proved to be a great way to keep the audience captivated.
"'Doctor Who' is so unlike every other TV show. Not only is it well written, but it includes complex relationships (including but not limited to romance), historical context, scientific concepts, etc., all tied into one big adventure of a TV show…it's so easy to identify with. Whether you're learning about Winston Churchill in Euro, reading Shakespeare in English, or thinking about how the universe began and how it will end, "Doctor Who" provides a fresh way of seeing things. " senior Rachel Traisman said.
The show's 50th anniversary episode, "The Day of the Doctor" is scheduled to air on Saturday Nov. 23rd on BBC and BBC-America. The IRC is going to be showing episodes of "Doctor Who" all day on Friday, as well as allowing students to make duct tape bowties on Wednesday and Thursday. Furthermore, the IRC has laid out several "Doctor Who" books for anyone who is interested in reading them.
In the IRC, Kelly Stallard agreed with Traisman. While she is not as knowledgable of Doctor Who yet, she is beginning to catch up on many of the episodes since she has always known that there must be something unique about Doctor Who if it has such a large fandom.
"I enjoy time travel. That's a fun aspect, and also how they've managed to keep it going for so long is amazing. They've kept such a large fanbase for so long, and that's very interesting," said Stallard.

Be sure to check out the "Doctor Who" episodes and the crafts in the IRC this week!