Swimmer Emma Helgeson Qualifies for State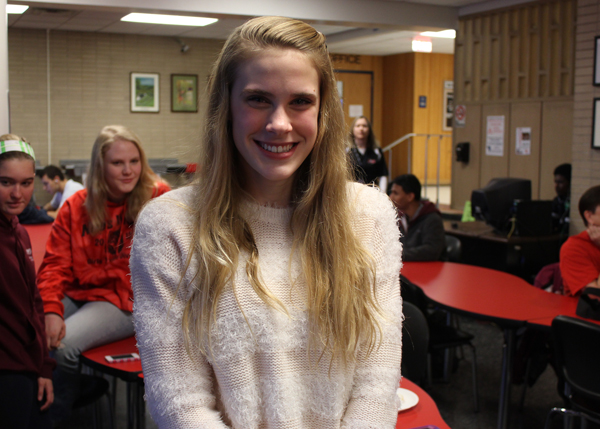 Hang on for a minute...we're trying to find some more stories you might like.
A celebration was held by the athletic department at 7:30 a.m. in the Oakton Lobby on behalf of junior swimmer Emma Helgeson. 
Last weekend, Helgeson qualified in both the 100 free and the 200 free and won the 100 free at sectionals. She is going to the IHSA State Final Meet this weekend.
"It couldn't happen to a nicer kid," said coach Jason Macejak about Helgeson's performance. "Last year she had a little bump in sectionals which held her back a little bit, but this year she had a much better mental approach and exceeded expectations by far. Her goal was just to get in the state meet but she qualified by quite a bit on both of her events and she actually won the 100 free style and she didn't even know she won it in the beginning — she just saw her time and realized that she qualified. She just did a great job. Mentally she was a lot stronger and was able to get over that hurdle and now she's competing with the best people in the state."
Helgeson is proud of her winning statistics.
"It's pretty amazing," she said. "I still can't believe I did that good at sectionals. I'm so happy I did."
Her goals this weekend are to have fun and try to make it to finals.
"The most is just to have fun and I would like to make it to finals. That would be amazing. But just the biggest thing is to have fun and I'm pretty sure I'll have fun."