Biggies: The New Look of Charhouse Grill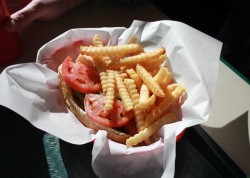 Biggies is everything a Chicago style fast food joint should be: tasty, satisfying, and inexpensive. With friendly, personal service, and a clean environment, my only real complaint is that it isn't open later.
For anyone who ever ate at Charhouse, you've already eaten at Biggies. The restaurant is essentially the same as Charhouse, with a new coat of paint. The original owner of Charhouse bought the restaurant back from one of its employees and rebranded it to avoid associating itself with the deteriorating quality that Charhouse had experienced over the past few years according to the Morton Grove Champion.
It was a good move.
The food itself is delicious, and for the price you couldn't ask for anything more. I ordered a hot dog with everything on it, fries, and a drink ($5.15 plus tax in total). The dog to topping ratio was perfect, and as delicious as any Chicago style hot dog has ever been. The bun was just soft enough to melt in your mouth, but not so soft as to turn to mush before you even eat it. The fries, I have to say, were the best French fries I have ever had. I could have easily eaten four more servings. The flavor, consistency, saltiness, were all perfect. Not a single fry was too crunchy or undercooked. I enjoyed them so much I got an order of cheese fries, which were outstanding as well.
The rest of the menu consists of fast food grill staples from burgers, to sausages, to beef and gyros. It also includes chicken and a fish filet. A veggie burger and salads are available as vegetarian options.
The atmosphere of the restaurant is friendly and relaxing. The owner, who was also running the register, was incredibly nice and made small conversation. Classic rock plays over the radio, which for me created an incredibly comfortable environment to eat in.
As I mentioned earlier, the only negative thing I have to say is that the restaurant's hours aren't very long. Biggies is closed on Sundays, open 10 a.m. to 6 p.m on weekdays, and 10 a.m. to 4 p.m. on Saturdays, making it primarily a lunch restaurant.
All in all, Biggies is a great fast food grill, and it's just a few steps from the football field. If you've never been, or if you're craving fries after class, head on over to Biggies.
4.5/5 Stars