Boys Swim Team Qualifies for State
By Nick Goldwyn
February 24, 2011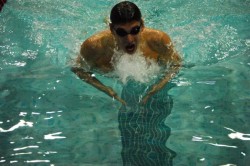 Breaking four school records, the Boys Swimming and Diving Team placed fourth overall at Sectionals on Saturday, Feb. 19, and advanced five swimmers and one diver to State.
The swimmers who qualified for State are: senior Konner Scott in the 100 free, 200 free (new school record), 200 free medley (new school record), and the 400 free relay; senior Elliott Kerbel in the 100 fly, 200 free, 200 free relay, 400 free relay; senior Tim Binkley in the 200 free relay, and the 400 free relay; senior Sam Stein in the 200 free relay; junior Ryan Miller in the 400 free relay; and senior Zach Rothstein, in diving.
The team also set school records in the 200 and 400 free relays.
Co-captain Scott, who went to State last year, said he is excited to go to State with his team this year.
"It's a big deal; it always is," he said.  "I'm just glad we have a team going this year. I love everybody on the team and the fact that I get to accomplish this along with many of them makes it all the more special."
Diver Rothstein agreed with Scott, saying State was a "really big deal."
"We have so many qualifiers, so it's really exciting," he said.
Rothstein added and that he hopes this "power-house" senior-heavy team does well and that he makes it to the diving final on Saturday.
The Swim Team will compete at prelims, which will begin at 3:30 p.m. on Friday, Feb. 25 at New Trier High School.
To see more pictures from the team's season, visit our gallery.