Hot Chocolate with the Principal Begins this Friday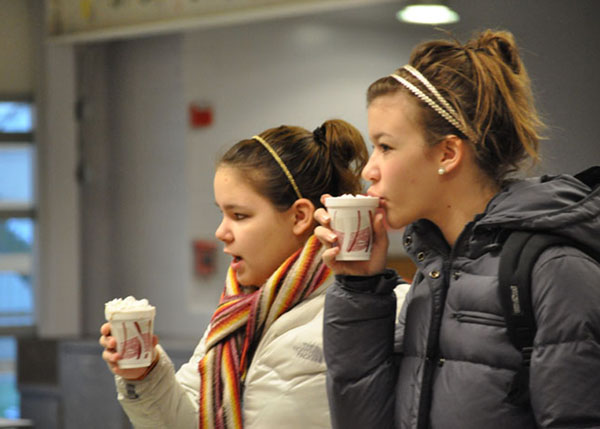 By Giovanna Zavell
December 5, 2013
Hang on for a minute...we're trying to find some more stories you might like.
Principal Jason Ness, along with other administrative members, will be handing out free hot chocolate to students in the cafeteria before school on Friday, Dec. 6
Continuing the tradition left behind by Kaine Osburn, hot chocolate will be handed out for free to students every Friday during the month of December. Ness says it's a nice way to give back to the students.
"I think getting off the bus in the cold, December weather [even though this December seems to be mild], and being able to receive free hot chocolate is a great way to kick off a Friday," Ness said.
The hot chocolate is provided by Niles West's food service, Organic Life, and staff and students are able to interact in a non classroom setting. Ness believes this allows the school to create a sense of community.
"Hot chocolate with the principal brings a sense of community into our school. It gives students a relaxed environment to intertwine with their fellow teachers and classmates," Ness said.
Students are excited for this seasonal opportunity.
"That's great. It's free and it's hot chocolate," sophomore Alyssa Castro said.
"Yeah, I participated last year and I will participate again this year," sophomore Quevina Baboo said.
The next upcoming hot chocolate with the principal dates are December 13 and 20.