Take a Chance with AP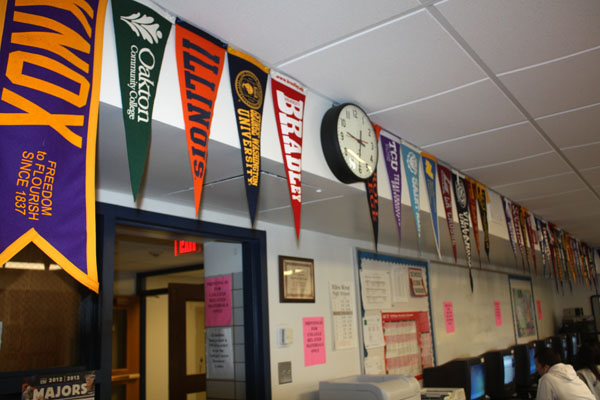 First semester is slowly coming to an end and soon it's going to be time for registration for the 2014-2015 school year. All the current freshmen, sophomores, and juniors will be signing up for their classes for the upcoming year, and for most it does depend on teacher recommendations; however, you do have a choice to choose your classes.
There are so many different courses that Niles West offers, often times it's difficult to choose from them. However, the required courses are some that come in variety of levels, there are the regular, honors, and AP tracks. AP classes are a challenge; they require a more rigorous coursework and are a lot more fast paced. The homework, exams, quizzes, and projects require a lot more time and effort. However, if you are someone debating whether or not to take AP classes, let me tell you, it is a good idea to try it out.
The AP classes offer work that are similar to what you will experience in college classes. Furthermore, if you take the AP exam and score high, the college you eventually attend may take it into account and you will save almost thousands of dollars by not having to take that class in college. The AP grading scale is from 0-5, with five being the highest. Most colleges accept from three to a five, but it does depend on the class and college.
Three common AP classes that many students take are AP U.S History, AP Language (Great American Writers), and AP Chemistry.
AP U.S. History is, like all other AP classes, a year long course that focuses on the settlement and development of the United States, from the beginning of America to the time of slavery, democracy, wars, and different social, political, and foreign policies.
AP Language (GAW) is a class that will drill analyzing and rhetoric in your head. By reading nonfiction pieces and answering the questions, "What does the other do, and how does he do it?" you develop analytical skills that prepare you for the big test in May. Structure, appeals, and evidence all appear in the many poems, plays, letters, essays, and nonfiction books that you will read throughout the year.
AP Chemistry focuses on the many fundamentals of the science of chemistry and involves all types of chemistry, each more in depth than what you probably learned in regular or honors chemistry. AP Chem is also very prominent in terms of labs, hands on work that will make actually make you see what you are learning and how it is relevant to the world around you.
Now that you know a bit about the courses, take a look at how taking the course will benefit you and what you will need to do in order to survive it.
This article was co-written by Tijana Stosovic.
The video was made by Michelle Sproat.