International Week Recipes: Greek Food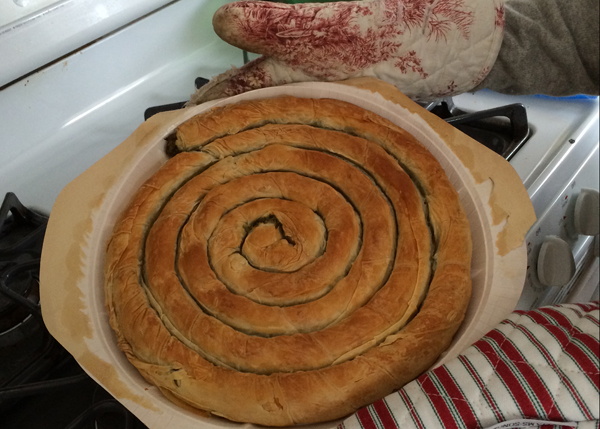 By Ally Daskalopoulos
February 3, 2014
Editor's Note: This is the first in a series of five stories we will be running about cultural dish recipes. 
Greek culture is famous for many things. We invented democracy, philosophy, astronomy, etc. We are very proud of our culture and the influence it has on our lives and society. One important aspect of this culture is food. This demonstrates the passion and love we put into Greek cooking. Two classic Hellenic dishes are Spanakopita (spinach pie) and Dolmades (rice/meat stuffed grape leaves). These are traditionally served as appetizers, but can also constitute as a main course depending on how hungry you are.
 [nggallery id=299 template=galleryview]
Dolmades:
Cook Time: 1 hour 
Ingredients
1 jar of large grape leaves in brine (about 60-75 leaves) or about 180 small leaves

8 cups of water

2 pounds of lean ground beef

1 cup of uncooked short-grain rice

2 medium-large onions, finely chopped

5 tablespoons of olive oil

1 bunch of fresh dill, chopped

1 tablespoon of fresh mint, chopped

juice of 3 lemons

1/4 teaspoon of pepper

1 teaspoon of sea salt

2 cups of water
Preparation
Blanch the Grape Leaves
Bring 8 cups of water to a boil in a large pot, add juice of 1/2 lemon and the salt. Carefully unroll the leaves (do not separate them). Turn off the heat and place leaves in the hot water for 3 minutes. Remove leaves and place them in a bowl and cover with cold water. When cooled, drain in a colander. It is not unusual for many of the outer leaves in the jar or can to be damaged, or to tear while using. Set these aside to use later in the recipe.
Preparing the Filling
Soak the rice for 10 minutes in hot water and drain. (Alternatively, sauté the rice with the onion.) Sauté the onions in 1 tablespoon of olive oil until translucent, not browned. In a bowl, combine the onions, ground beef, rice, remaining olive oil, dill, mint, juice of 1 lemon, and pepper. Mix well by hand.
Filling and Rolling the Leaves
Gently separate one leaf and place it shiny side down on a work surface. Place a pinch (up to a teaspoon) of the filling on the leaf at the point where the stem joined the leaf. Fold up the bottom of the leaf over the filling, then each side inward in parallel folds, and roll up the leaf. Roll should be firm, not tight, as the filling will expand during cooking. Repeat until all the filling has been used.
Cooking the Stuffed Grape Leaves
Because the leaves on the bottom can burn while the filling cooks, put a plate or wooden souvlaki skewers in the bottom of a heavy-bottomed pot (see tip below). The plate should fit as closely as possible to the sides. If there are unused leaves, or leaves that were torn and not used during the filling process, put them on the plate or on top of the skewers. Place the dolmathakia on top, packing them closely together (not squashed), seam side down, so they don't unroll during cooking. Layer them until all are in the pot (2-3 layers is best, but no more than 4 layers). Place several unused leaves over the top. Take another plate and place it upside down on top of the dolmathakia, with something to weigh it down (a second plate works well). Add 2 cups of water to the pot and cover. Bring the water to a gentle boil, add the remaining lemon juice, reduce heat to low and simmer for approximately 50-70 minutes. Check to see if done. If the rice has cooked, they are done. If not, continue cooking for another 10 minutes and check again. Cooking time depends both on the type of pot used and the particular stove top element.
If preferred, use a pressure cooker. No plates needed, but do use the skewers in the bottom. Pack the dolmathakia into the pressure cooker, add the 2 cups of water, close and cook for 15-20 minutes at the first pressure mark.
Serving
Individual servings of dolmathakia are 4-5 pieces on small plates as an appetizer, however they can also be used as a side or main dish. Serve dolmathakia warm or at room temperature with (egg and lemon sauce), lemon wedges, tzatziki, unflavored yogurt on the side.
Storage
These will keep well in the refrigerator for about 5 days. Return to room temperature before serving. Drizzle olive oil on top and cover to store. They can also be frozen. If you do freeze, reheat in the microwave or by steaming and serve warm. Don't just thaw and eat.
Tips
If you don't have a plate that fits or skewers, line the bottom of the pan with unused or torn leaves.

Leftover filling can be used to make stuffed vegetables like tomatoes, peppers, zucchini, and eggplant.

To make as a main course, use larger grape leaves and increase the amount of filling in each leaf to 1 tablespoon.
Spanakopita:
Ingredients
2.5 lbs. spinach, chopped (you can substitute frozen, thawed well)

1/2 cup olive oil

4 large onions, diced

2 bunches green onions, diced (incl. 4 inches green)

1/2 cup parsley, chopped

1/2 cup fresh dill, chopped (substitute 3 tbsp. dried)

1/4 tsp. ground nutmeg

Salt and freshly ground black pepper to taste

1/2 lb. feta cheese, crumbled

4 eggs, lightly beaten

1/2 lb. ricotta or cottage cheese

1/4 cup butter, melted

1/4 cup olive oil

1 lb. phyllo pastry sheets
Preparation
Wash and drain the chopped spinach very well. If using frozen spinach, thaw completely and squeeze out excess water. Spinach should be dry.
Heat the olive oil in a deep saute pan or large dutch oven. Saute the onions and green onions until tender. Add the spinach, parsley, and dill and cook for 5 to 10 minutes until the spinach is wilted and heated through. Add the nutmeg and season with salt and pepper.
If using frozen spinach, you will want to cook until excess moisture evaporates. Spinach mixture should be on the dry side.
Remove from heat and set the spinach aside to cool.
In a large mixing bowl, combine the feta, eggs, and ricotta (cottage) cheese. Add the cooled spinach mixture and mix until combined.
Combine the melted butter with the olive oil in a bowl. Using a pastry brush, lightly grease two 9 x 12 rectangular pans.
Unwrap the Phyllo:
Carefully remove the Phyllo roll from the plastic sleeve. Most packages come in 12 x 18 inch sheets when opened fully. Using a scissor or sharp knife, cut the sheets in half to make two stacks of 9×12 inch sheets. To prevent drying, cover one stack with wax paper and a damp paper towel while working with the other.
Preparing the Pita
Layer about 10 sheets on the bottom of the pan making sure to brush each sheet with the butter/olive oil mixture. Add half of the spinach mixture in an even layer and press with a spatula to flatten.
Layer another 10 sheets on top of the spinach mixture making sure to brush well with butter/olive oil mixture. Repeat the process with the second pan.
Before baking, score the top layer of phyllo (making sure not to puncture filling layer) to enable easier cutting of pieces later. I place the pan in the freezer to harden the top layers and then use a serrated knife.
Bake in a preheated 350 degree oven until the pita turns a deep golden brown. If the pita is frozen when you put it in the oven, you will need approximately 45 minutes cooking time. If fresh, plan for approximately 20 to 25 minutes of cooking time.
Note: you can also roll the mixture into a snail shape as shown in the photos included.