Tentative Agreement between the Board and Union Reached
By Rozy Kanjee
March 1, 2011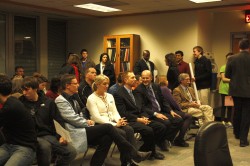 A tentative agreement between the administration and the teachers' union has been reached, regarding the dismissal of 10 tenured teachers, according to school board president Bob Silverman.
If passed by the board and union, the 10 tenured teachers who were released by the board on Feb. 7 might remain as teachers in the district. However, according to Silverman, this change will affect 10 other nontenured teachers.
"I am please to say that just before meeting tonight the administration and the union reached a tentative agreement that will save the 10 teachers from the reduction in force," Silverman said at Monday night's board meeting. "But this also means that 10 different teachers are on the list [to be dismissed] which is not an easy thing for us handle either."
Silverman stated that because of the restructuring plan, there is now an excessive of teachers.
"We now have 10 teachers too many," he said. " So, I don't think it's a wise thing to pay 10 teachers to sit around and do nothing. Or to have class sizes so small for those teachers so they can continue on."
According to former union president Steve Grossman, the tentative agreement has yet to be approved by the board as well as the general member of the union. The specifics of the plan cannot be released until it's confirmed, Grossman said. The union hopes to vote on it at the general membership meeting Thursday, March 3 after school.
Many students, alumni, community members, and teachers spoke at Monday's board meeting to express their disagreement with dismissal of the 10 tenured teachers.