Cultural Round Table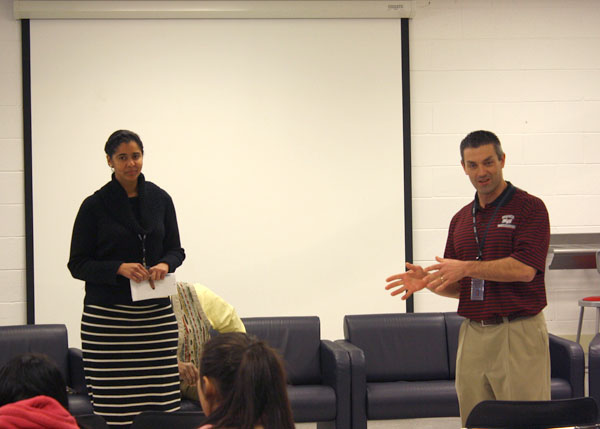 By Kelsey Ledford
February 5, 2014
The Cultural Round Table is just one event in celebration of international week and also takes place throughout the year with various discussion topics. Many of the cultural clubs in this school contribute to these discussions.
This year, two speakers from the school board, David Ko, the first Korean on the school board, and Carlton Evans, the first African American on the school board, attended the event to speak on the topic of the cultural differences in District 219 and what community members experienced during the time of Martin Luther King. As the first of their kind to serve on the District 219 school board, Ko and Evans have managed to accomplish something great.
Ko describes how he was received as a board member.
"I'm still learning as I go. It's been wonderful so far from staff to administration. They helped me out a lot. Having racial and cultural differences makes it a great mixing pot of different people," Ko said.
Evans has had a great record as well.
"I really believe that based on experiences, I have been prepared for this job. I've had a great welcome and there have been hardships, but I enjoy my work," Evans said.
During the time of Martin Luther King, Evans was born in a place where the racial lines were very divided and you didn't cross the lines because fights would break out. there were black and white neighborhoods. His parents taught to love and not hate.
"You're going to find people that look like you and don't like you, and people that do resemble you and don't like you." Evans said, whose sisters were a part of the movement, even integrating an all white school.
Ko shares his experience living as a child. He grew up in Chicago and the school he attended, Niles North. As a kid who moved around a lot, Ko has learned that once you leave big cities you lose diversity in the rural parts of the U.S. but this shouldn't stop you. "If you have a goal or a dream, you've got to fight for it and don't give up."
When asked to give advice to students who are entering college or are the first of their families to go to school or college, Evans had a few good words.
"My father always told me whenever you walk into a room, make sure you look like you belong there," Evans said.
Ko also weighed in with comforting words for those nervous in anticipation of college life.
"Let your fear help you to overcome your obstacle. Don't be afraid to be the first," Ko said.
Cultural Round Table offered members of our community to share their experiences through such history with those of the younger generation. They can share wisdom and advice years of experience in the real world has wrought and it is truly amazing that they can speak at an event directly with students. Even if you did miss out on this Cultural Round Table, be sure to attend the next one.