International Food Recipes: Filipino Food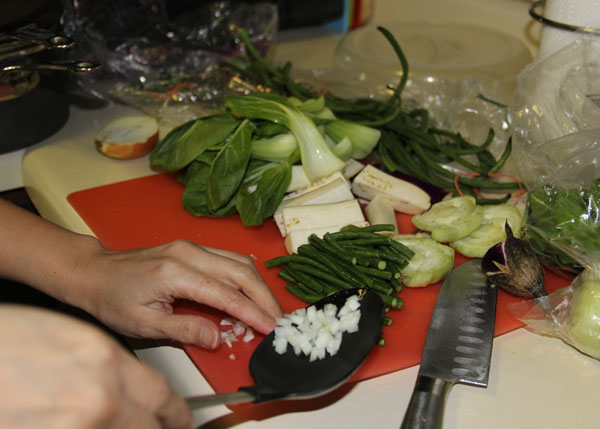 By Gabrielle Abesamis
February 4, 2014
Hang on for a minute...we're trying to find some more stories you might like.
Editor's Note: This is the second in a series of five stories we will be running about cultural dish recipes. 
Typically, the Filipinos specialize in warm dishes with sauce and meat on top of rice.  Because of the country's unique location and history, Filipino food has always been a mixture of traditional Spanish dishes, Chinese dishes, and dishes from surrounding countries. What makes Kare kare, a Filipino beef stew, so special to the Filipino culture is that it became the nation's comfort food before the Spanish dictators came to the Philippines and before other nations migrated to the islands.
[nggallery id=300 template=galleryview]
Kare Kare (Beef Peanut Stew)
Ingredients
half an onion
two cloves of garlic
one big egg plant
ten to fifteen string beans
three small bok choys
two pounds of ox tail
half a cup of rice
half a cup of peanuts
half a cup of anato seeds
half a cup of peanut butter
enough water to boil two pounds of ox tail.
Process
Boil the two pounds of ox tail for at least three hours, or put in a pressure cooker for 15 to 20 minutes
Chop the half onion, cloves of garlic, egg plant, string beans, and bok choy
Grind half a cup of toasted peanuts
Toast half a cup of rice on a pan for five minutes
Saute the onions, cloves of garlic, egg plant, and string beans
Take half a cup of the beef stock and use it to dissolve the toasted ground rice, half the cup of anato seeds, and toasted peanuts
Put the seed, rice and peanut mixture into the stock
Add half a cup of peanut butter in the boiling water
Once the beef is tender enough, add the vegetable mix to the stew
Stir and hear until the soup thickens
Add salt to taste
The dish is best served with rice and shrimp paste.