Swim Team Succeeds at State
By Nick Goldwyn
March 3, 2011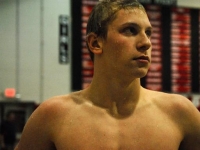 Senior swimmer Konner Scott swam fast at State over the weekend–and, as he has done every year he has gone to State, made a name for himself, a name that the State officials had a hard time getting right.
The mix-up with his name didn't bother Scott in the least, who qualified second and third in his two individual events (the 100 and 200 free), and finished fifth and third in those respective events.
Scott said is he happy about his prelims on Friday, but not as happy about his swimming on Saturday
"My prelims were really good," he said. "On Saturday, I was a little nervous. I swam well in the 200 and finished third, and I was swimming really well in the 100 [he was second for most of the race], when I swam into the lane line in the last 20 meters."
The other State qualifiers from West also performed well: senior Elliott Kerbel finished 38 out of 43 in the 100 fly and 27 out of 44 in the 200 free; senior diver Zach Rothstein finished 25 out of 48 in diving, and the teams two relays also did well. The relay of Scott, Kerbel, senior Tim Binkley, and junior Ryan Miller placed 28 out 34 in the 400 relay; and Scott, Kerbel, Binkley, and senior Sam Stein were two spots and only .02 seconds away from advancing to the finals in the 200 free relay (14 out of 30).
Varsity coach Dan Vander Jeugdt said that the team did extremely well both at State and throughout the season.
"Everything the team wanted to accomplish we accomplished," he said.
[nggallery id=33 template=galleryview]