Senator Visits School to Discuss Policies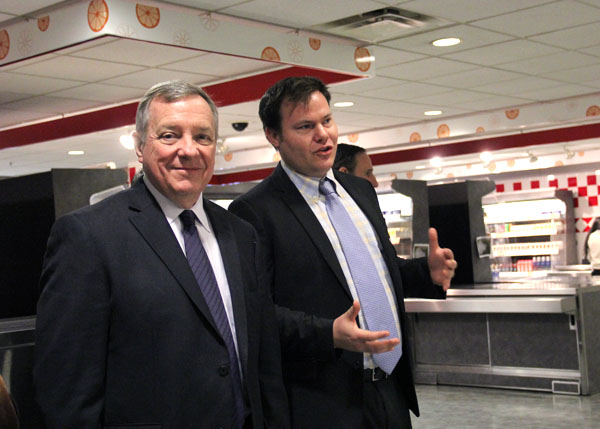 By Gabrielle Abesamis
February 21, 2014
In an effort to check the healthy meals that Organic Life provides, Senator Dick Durbin, along with Niles Township mayors, toured the cafeteria and sat down with student government members, Organic Life staff, and district administrators at Niles West yesterday.
When Durbin sat down with student government students he asked them questions regarding the cafeteria, physical education programs, and gave them insight on local college financial issues.
 [nggallery id=310 template=galleryview]
Cafeteria Food
Although Niles West has a healthy nutrition plan, according to Durbin, there are still  schools in the state that offer unhealthy options.
"We're trying to find the right balance when it comes to diet and also when it comes to health. The government plays a role in this because we provide school lunches through the Federal Department of Agriculture," Durbin said.  "A school in Englewood was offering tater-tots, corn dogs, and pizza. That was it. I though to  myself, 'that's sad.'"
Student government president Jessie Amga said Organic Life provides the right nutritional choices.
"Transitioning into Organic Life made a positive impact on students diet," Amga said.
Physical Education and Hygiene
As reported by Fox News, up to 90% of the states require physical education in high school.
"We are so proud of Illinois for having a physical education requirement. It turns out, not this one, but many schools, say it doesn't work. We spend one year on health, one year in driver's ed, and two years where we're supposed to be physically working out for 42 minute period," Durbin said.
Student government vice president Daniela Mansour stresses D219's solid physical education classes.
"You got the athletes, who can go to varsity PE and non athletes that can take team sports or adventure education. We have aerobics and a cardio lab. Once a week, you go with your class to the cardio lab with heart rate monitors on. You need to be in the target zone for 20 minutes in order to get points," Mansour said. "D219 offers the best physical education. There's so much variety."
In addition to the classes, Durbin believes that hygiene after the classes is an issue.
"Is it a matter of time is that why you don't shower?" he asked. "I went to an all boys school and the notion of coming to class all sweaty in front of potential girlfriends was totally unacceptable. I'd be ruined for life if there were girls."
College
Towards the end of Durbin's meeting at Niles West, he offered advice about college financial matters.
"Don't fall for the marketing. When you go to the traditional schools, the best bargain is community college. You won't end up deeply in debt and then you might want to transfer to UIC or Loyola or somewhere else. There are three numbers to learn about for profit schools. Ten, ten percent of all students that get out of high school go to for profit universities. 20, 20% of all the federal aid education goes to those schools. They charge twice as much for tuition, 20%. 46% of all student loans defaults are from students of for profit schools."
Mayor George Van Dusen is also a professor at Oakton Community College and teaches American history and American government and concurs with Durbin.
"The one thing about Oakton is the New York times ranked Oakton in the top ten community colleges in the country. We have PHDs from Harvard and everywhere.  In my department in order to teach at Oakton you need a PHD."
Mayor Dan DiMaria supports the community college decision as well.
"My brother went to Notre Dame graduated with a Cum Laude with a philosophy degree and to this day will tell you the best classes he ever took were at Oakton," DiMaria said.
Durbin thinks the sticker price of universities can be fixed with scholarships and grants. He said universities are expensive because they're trying to earn the reputation of a respectable education provider.
"I once said to the president of Loyola university, 'What are you doing? Why aren't you offering an affordable price at a respectable university?' And this is what he said to me, 'Nobody knows we're a good school. The only way  only way we can transfer to be to being a good school is to be just as expensive as the best schools. The sticker price establishes reputation," he said.
Durbin stresses that there are ways to cut the expenses.
"We have a lot of dual credit. A lot of the courses here, you get credit for at Oakton," superintendent Nanciann Gatta said.